Devastating West Coast Megaquake Imminent Says USGS Scientist; "Beware The New And Full Moons"
A new report predicts that a mega-earthquake could kill an estimated 13,000 people and destroy a sizable portion of the Pacific Northwest. By the time the shaking has ceased and the tsunami has receded, the region will be unrecognizable. Kenneth Murphy, who directs FEMA's Region X, the division responsible for Oregon, Washington, Idaho, and Alaska, says, "Our operating assumption is that everything west of Interstate 5 will be toast."
To the north of California's famous San Andreas fault is a less known, but possibly more deadly, fault line. The Cascadia subduction zone runs some 700 miles from northern California to Vancouver.
In a deeply reported article for The New Yorker, Kathryn Schulz tells the tale of how this fault lies dormant for periods of 243 years, on average, before unleashing monstrous tremors. The Pacific Northwest is 72 years overdue for the next quake, which is expected to be between 8.0 and 9.2 in magnitude.
At the upper end of that scale, Schulz notes, we would experience "the worst natural disaster in the history of North America." (The major 2011 earthquake in Japan was a 9.0, killing more than 15,000 people.)
The Federal Emergency Management Agency (FEMA) already has an emergency response plan for when this earthquake hits. Parts of FEMA's quake expectations are truly terrifying. As Schulz writes:
FEMA projects that nearly thirteen thousand people will die in the Cascadia earthquake and tsunami. Another twenty-seven thousand will be injured, and the agency expects that it will need to provide shelter for a million displaced people, and food and water for another two and a half million.
A year supply of stockpiled food may be overkill for most survival situations short of an apocalyptic event (i.e. TEOTWAWKI). However, if it helps you sleep better at night knowing you have a year's worth of food stock on the premises, what's that investment worth to you?
These projections are based on a scenario that has the earthquake striking at 9:41 a.m. February 6. (The agency isn't trying to predict the future or saying that the earthquake will definitely occur then, they just need a date to plan around.) The toll would be far higher on a warm day, when more people — often huge crowds of people — are at the beach or in the water.
When the quake does occur, its severe effects and the impacts of the following tsunami ("It will look like the whole ocean, elevated, overtaking land") will be felt all the way from Canada to Sacramento, in densely populated cities like Seattle and Portland.
What's more, the Pacific Northwest is not earthquake ready. Buildings aren't retrofitted properly and there aren't many effective emergency warning systems or escape plans in place.
SOURCE : youtube.com
Is "The Big One" imminent? Famed USGS scientist Jim Berkland, the man who predicted the Loma Prieta "World Series Earthquake," has a terrifying warning for the West Coast of the US in the wake of massive earthquakes in Ecuador and Japan that have left hundreds dead, awakened volcanoes around the Pacific Ocean's "Ring of Fire," and kicked off earthquake swarms in Hawaii, Arizona, and Yellowstone National Park.
"Beware the new and full moons," Berkland says in this exclusive interview. The "maverick geologist" says that 20 of the last 25 "megaquakes" have occurred on the dates of new and full moons, the result of "equinoctal tides," extreme gravitational forces that cause solid earth to expand and contract much as ocean tides rise and fall.
As A Way To Introduce You To Skilled Survival, We're Giving Away Our 'Family First' Food Planning Guide. Click Here To Get Your Copy.
Berkland says that he is particularly worried about the San Andreas Fault in the LA Basin and the Cascadia Subduction Zone along the coast of Oregon and Washington State, where a long overdue earthquake would undoubtedly be accompanied by a massive tsunami that could kill thousands and cause billions of dollars in property damage.
SOURCE : youtube.com
RELATED : Russia Warns Huge Megaquake About To Rip Through America – Earthquake Induced Weaponry?
RELSTED : Warning – Planet X Approaches Inner Solar System- Blue Star Kachina Appears- FEMA Prepares for Megaquakes
Are you worried about your future? Are you worried by the many disasters that you face in your everyday life? Worry no more. The Lost Ways comes in to solve your woes. This program was created by Davis Claude and its major role is to prepare and teach you how to handle worst-case scenarios using the least independence. This program will therefore motivate you to protect your family and friends during the worst period without the help of the modern technology.
Remember, calamities are everywhere: at work, home, school and many other places. These calamities cause tension and leads to a decrease in productivity. This may finally lead to a reduction in life. Fortunately, the lost ways review will provide solutions to these situations. It will give you the tips for preparing yourself when nothing seems to go as expected.
Generally, most people are optimistic. This makes them unprepared for failure. However, the best thing is to prepare for worst times. It is important to tell your kids about earthquakes, fire outbreaks, extreme weather conditions and other calamities. Tell them how to deal with these calamities in case they occur.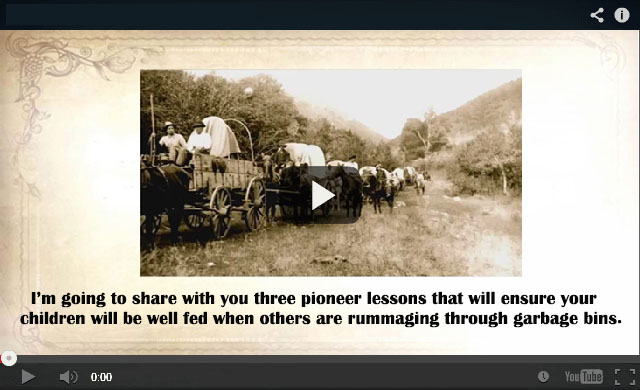 Other useful resources:
The Lost Ways (Learn the long forgotten secrets that helped our forefathers survive famines,wars,economic crisis and anything else life threw at them)
Survival MD (Best Post Collapse First Aid Survival Guide Ever)
Backyard Innovator (A Self Sustaining Source Of Fresh Meat,Vegetables And Clean Drinking Water)
Blackout USA (EMP survival and preparedness)
Conquering the coming collapse (Financial advice and preparedness )
Liberty Generator (Build and make your own energy source)
Backyard Liberty (Easy and cheap DIY Aquaponic system to grow your organic and living food bank)
Bullet Proof Home (A Prepper's Guide in Safeguarding a Home )
Family Self Defense (Best Self Defense Strategies For You And Your Family)
 Survive Any Crisis (Best  Items To Hoard For A Long Term Crisis)
Survive The End Days (Biggest Cover Up Of Our President)
Drought USA (Discover The Amazing Device That Turns Air Into Water)