Ebola Is Solution to Earth's Overpopulation Control 
Dr. Eric R. Pianka received a prolonged standing ovation when he said that air-borne Ebola virus should be released in order to control world population.
Pianka's doomsday warning of the population bomb, for which Mims claims he presented no evidence whatsoever, is complete pseudo-science. Populations in developed countries are declining and only in third world countries is it expanding dramatically. Industrialization itself levels out population trends and even despite this world population models routinely show that the earth's population will level out at 9 billion in 2050 and slowly decline after that. "The population of the most developed countries will remain virtually unchanged at 1.2 billion until 2050," states a United Nations report. Conservation International's own study revealed that 46% of the earth's surface was an untouched wilderness, that is land areas not including sea. It is commonly accepted that the entire world population could all fit into the state of Texas and each have an acre of their own land.
A University of Texas professor says the Earth would be better off with 90 percent of the human population dead.

"Every one of you who gets to survive has to bury nine," Eric Pianka cautioned students and guests at St. Edward's University on Friday. Pianka's words are part of what he calls his "doomsday talk" – a 45-minute presentation outlining humanity's ecological misdeeds and Pianka's predictions about how nature, or perhaps humans themselves, will exterminate all but a fraction of civilization.
Though his statements are admittedly bold, he's not without abundant advocates. But what may set this revered biologist apart from other doomsday soothsayers is this: Humanity's collapse is a notion he embraces.
Indeed, his words deal, very literally, on a life-and-death scale, yet he smiles and jokes candidly throughout the lecture. Disseminating a message many would call morbid, Pianka's warnings are centered upon awareness rather than fear.
"This is really an exciting time," he said Friday amid warnings of apocalypse, destruction and disease. Only minutes earlier he declared, "Death. This is what awaits us all. Death." Reflecting on the so-called Ancient Chinese Curse, "May you live in interesting times," he wore, surprisingly, a smile.
Pianka's approval of how the Chinese police state effectively controlled their population tells us that this rhetoric is just the glue that holds together the true agenda of the elite. A staged bio-attack blamed on terrorists could be the perfect cover for enacting the program of population reduction and the usurpation of our remaining freedoms.
In the 21st century the elite are concerned that from over 6 billion people might spring a new elite to challenge their stranglehold on the reigns of power. This is one reason for desire to cull the population down to a manageable level. Another is control over the behavior of the existing serfs and herding them like cattle into the slaughter house.
Pianka said, "Good terrorists would be taking [Ebola Roaston and Ebola Zaire] so that they had microbes they could let loose on the Earth that would kill 90 percent of people."
Top Scientist Advocates Mass Culling 90% Of Human Population
Fellow professors and scientists applause and roar approval at elite's twisted and genocidal population control agenda
A top scientist gave a speech to the Texas Academy of Science last month in which he advocated the need to exterminate 90% of the population through the airborne ebola virus. Dr. Eric R. Pianka's chilling comments, and their enthusiastic reception again underscore the elite's agenda to enact horrifying measures of population control.
Pianka's speech was ordered to be kept off the record before it began as cameras were turned away and hundreds of students, scientists and professors sat in attendance.
Saying the public was not ready to hear the information presented, Pianka began by exclaiming, "We're no better than bacteria!", as he jumped into a doomsday Malthusian rant about overpopulation destroying the earth.
Standing in front of a slide of human skulls, Pianka gleefully advocated airborne ebola as his preferred method of exterminating the necessary 90% of humans, choosing it over AIDS because of its faster kill period. Ebola victims suffer the most tortuous deaths imaginable as the virus kills by liquefying the internal organs. The body literally dissolves as the victim writhes in pain bleeding from every orifice.
Kissinger prepared a depopulation manifesto for President Jimmy Carter called 'Global 2000' which detailed using food as a weapon to depopulate the third world.
One of the most chilling admissions of deadly intent came from the lips of the late Jacques Cousteau, the sainted environmental icon. In an interview with the UNESCO Courier for November 1991 the famed oceanographer said:

"The damage people cause to the planet is a function of demographics — it is equal to the degree of development. One American burdens the earth much more than twenty Bangladeshi. The damage is directly linked to consumption. Our society is turning toward more and needless consumption. It is a vicious circle that I compare to cancer…."
"This is a terrible thing to say. In order to stabilize world population, we must eliminate 350,000 people per day. It is a horrible thing to say, but it's just as bad not to say it."
What happens when you get " Ebola Virus" – New Documentary

Scientist Working on Gov't Ebola Drug Joked About Culling Population with GMO Virus
NOT THE GUY YOU WANT MAKING THE EBOLA VACCINE: Drugmaker said "Go out and use genetic engineering to create a better virus… 25 percent of the population is supposed to go in Contagion."
Correction: As per contact by the University of Arizona Alumni Association, we stated in error that Dr. Charles Arntzen works at the University of Arizona, rather than Arizona State University where he carries out his research. We regret the mistake.
Media coverage is now focusing on the experimental Ebola treatments being given to two American Ebola patients who contracted it while caring for victims in Africa — the site of the world's deadliest outbreak.
But that Ebola treatment was developed by a leading bioengineering scientist at the Arizona State University Biodesign Institute who was caught on camera "joking" about wiping out humanity. Dr. Charles Arntzen suggested the use of a "better" genetically engineered virus during a post-lecture Q&A focused on over-population issues.
Other useful resources: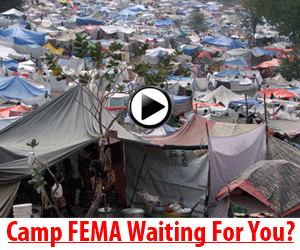 Survival MD (Best Post Collapse First Aid Survival Guide Ever)
Backyard Innovator (A Self Sustaining Source Of Fresh Meat,Vegetables And Clean Drinking Water)
Blackout USA (EMP survival and preparedness)
Conquering the coming collapse (Financial advice and preparedness )
Liberty Generator (Build and make your own energy source)
Backyard Liberty (Easy and cheap DIY Aquaponic system to grow your organic and living food bank)
Bullet Proof Home (A Prepper's Guide in Safeguarding a Home )
Family Self Defense (Best Self Defense Strategies For You And Your Family)
Sold Out After Crisis (Best 37 Items To Hoard For A Long Term Crisis)
SOURCE 1 : truthstreammedia.com
SOURCE 2 : www.prisonplanet.com
SOURCE 3 : rense.com