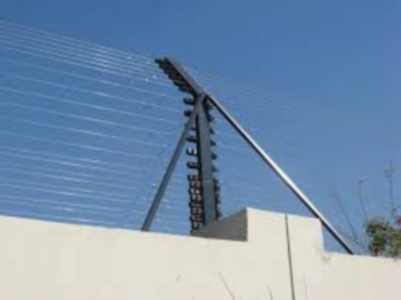 Gaining food independence is a big step in our overall effort to become self-reliant. Maintaining a good food supply is crucial to being able to both survive and thrive in a post-disaster society.
Growing your own food is one of the best ways to reach your goal in this area, but sometimes little critters can pose a big problem. A standard fence may keep rabbits, deer and other animals out of your garden; but an electric fence will probably be much more effective.
Of course, an electric fence is going to be more expensive than a standard fence, but there's a way to solve that issue. An easy fix that uses that great big power plant in the sky — the sun — is a low-maintenance solar electric fence. And it's even less expensive if you build it yourself.

Your cost for a solar electric fence should be about $200, assuming your home garden is roughly 50 feet by 50 feet. And this system should last for at least 10 years, so the cost of protecting your food source is very low.
Here's what you'll need to build your solar electric fence, and nearly everything is available at ranch supply stores, acehardware.com or spheralsolar.com:
200 feet of polytape or electric wire
24 fiberglass support rods and plastic insulators
4000+ volt fence charger with 12VDC input
Copper rod for grounding the system
Deep cycle battery from a boat or marine store
5w-10w 12VDC solar panel for charging the battery
Deer repellent and cloth strips.
Installation is relatively easy. Start off by driving the corner posts around the outside perimeter of the garden. Then, space the remaining poles 8 to 12 feet between the corner posts to keep the charged wire tight. Next, string the wire between the posts about 3 feet off the ground, or higher depending on your critter problem. You can also run several lines around the posts at varying levels if you are concerned about rodents and rabbits.
Before connecting the wires to the fence charger, attach repellent-soaked rags about every 4 feet along the wire. This will ensure that deer won't try to jump your wire setup and will stay clear. You may also want to set up a "gate" where you can enter the garden without turning off the fence. Then, attach the fence wire and grounding rods per the instructions on your fence charger.
Finally, connect the fence charger input to the 12 VDC battery and attach the appropriate leads from the solar panel to the same terminals on the battery. With a simple setup like this and a fence that is presumably on most of the time, you shouldn't need a charge controller. If you take the fence down for the winter, then also disconnect your battery and solar panel, and store them in a safe place.
It's a good idea to test your fence occasionally to make sure it's still running. I shouldn't have to tell you, but don't do this with your hand! Use a simple $5 voltage meter. If you notice that your wires are often dead, you may need an additional solar panel and battery. This is common for longer fences and fences that are often touched by animals.
Now you can enjoy your garden and its bounty without worrying about your furry friends ruining dinner.
Survive Attack to Our Power Grid System (Weapon That Can Instantly End Modern Life in America)
Survival MD (Best Post Collapse First Aid Survival Guide Ever)
Backyard Innovator (A Self Sustaining Source Of Fresh Meat,Vegetables And Clean Drinking Water)
Blackout USA (EMP survival and preparedness)
Conquering the coming collapse (Financial advice and preparedness )
Liberty Generator (Build and make your own energy source)
Backyard Liberty (Easy and cheap DIY Aquaponic system to grow your organic and living food bank)
Bullet Proof Home (A Prepper's Guide in Safeguarding a Home )
Family Self Defense (Best Self Defense Strategies For You And Your Family)
 Survive Any Crisis (Best  Items To Hoard For A Long Term Crisis)
Survive The End Days (Biggest Cover Up Of Our President)
Drought USA(Discover The Amazing Device That Turns Air Into Water)
SOURCE : personalliberty.com