ISLAMIC TERROR GROUP ISIS – CONTINUES TO WIN WORLD WAR III
YES, WE ARE AT WAR WITH ISIS AND ISLAM. GET USED TO THAT IDEA IF YOU EVER WANT TO WIN THIS BATTLE.
"To every thing there is a season, and a time to every purpose under the heaven: A time to be born, and a time to die; a time to plant, and a time to pluck up that which is planted; A time to kill, and a time to heal; a time to break down, and a time to build up; A time to weep, and a time to laugh; a time to mourn, and a time to dance; A time to love, and a time to hate; a time of war, and a time of peace." Ecclesiastes 3:1-4,8 (KJV) 
After 5 years of the combined might of the Western world against them, ISIS is bigger and stronger than they ever were and continue to operate with impunity. Today's Muslim terror attack in Brussels, home of the headquarters of the European Union, shows just how easily they are able to carry out devastating terror attacks with ease. Warning America Attack By Isis on America Power Grid End of 2016 100% Chance it Will Happen
THIS IS WORLD WAR III, AND ISIS WON'T STOP UNTIL THEY ARE EITHER IN POWER OR DEAD FROM TRYING.
When Muslim terrorists attacked Paris back in November of 2015, there was a worldwide outcry complete with tweeted memes, stuffed teddys, walls of flowers and candlelight vigils. Instagram photos of mourners wearing 'Je Suis Charlie' t-shirts were everywhere. However touching, this massive display of grief did nothing to unkill the 199 who died in the attack, and did nothing to repair the bodies of the 352 wounded.(source)
Could you survive after an terorrist attack?Would you be able to sustain your loved ones when all hell brakes loose?In this video, I will unearth a long-forgotten secret that helped our ancestors survive famines, wars, economic crises, diseases, droughts, and anything else life threw at them… a secret that will help you do the same for your loved ones when America crumbles into the ground.I'm also going to share with you three old lessons that will ensure your children will be well fed when others are rummaging through garbage bins. Click here to learn all about the 3 skills that will help you thrive in any crises situation.
You consider arming yourself against a terrorist attack in Washington D.C. and Seattle?
King County Sheriff John Urquhart cautioned his deputies to be vigilant against what he thinks is a grave threat: home-grown ISIS sympathizers who could target many of Seattle's soft target.
"What I am worried about, what causes me to lose sleep at night, is a homegrown terrorist," Urquhart said. "That's somebody that hasn't come over from Syria, that's not an official part of ISIS, but has been radicalized by ISIS by their propaganda."
"They've been implored to take action wherever they are, around the world," he said. "I'm afraid of a homegrown terrorist that does something here. It's going to be a soft target."
He recommended that his off-duty deputies carry their service weapons, along with extra magazines, in case they encounter a terrorist act in progress. The Facts Show ISIS Plans Attack the U.S. Soon? ISIS Militants with US Passports?
But what about the average citizen? If we're trained and have a license to carry, should we arm ourselves? Sheriff Urquhart had a refreshing answer when I interviewed him Tuesday night on the Jason Rantz Show (weeknights, 7-10 p.m.).
"I'm not going to be presumptuous and say somebody should carry a gun and I'm not going to be presumptuous and say somebody shouldn't carry a gun," Sheriff Urquhart declared. "To be armed is a very personal decision … and everybody has to make that decision themselves without input from me and frankly, anybody else." Protect Your Home and Family in an Emergency (Preparing for Earthquake, Fire or Terrorist Attack)
He says that if you choose to arm yourself, take special care of the responsibilities that comes with this decision.(source)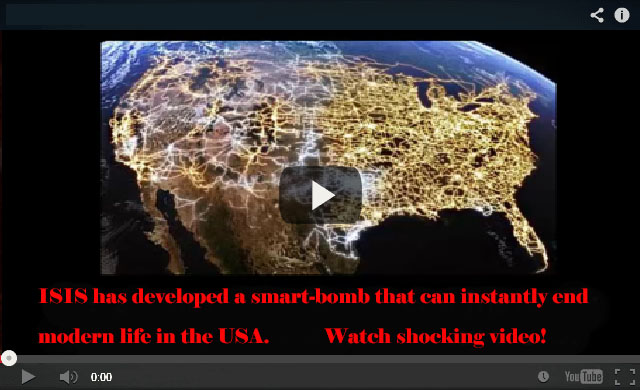 Muslim Leaders Declare Aim Of World Domination. Rome, London, Spain, Paris, Brussels and America, Various Islamic leaders, preachers and citizens state their end goal of world domination, through the means of infiltration, immigration and violent jihadist terrorism, in order to subjugate unbelievers and consolidate their power.
Their main targets include the UK (London), North and South America, Italy (Rome), Israel (Jerusalem), France (Paris), Spain (Andalusia) , Belgium (Brussels) which they will use as outposts for the rest of their attacks against the non muslim world.
Our leaders ignore the threats. It is up to the public to educate ourselves. You will not find these videos on the BBC, Sky News, Al Jazeera or Russia Today.
The Lost Ways (Learn the long forgotten secrets that helped our forefathers survive famines,wars,economic crisis and anything else life threw at them)
Survive Attack to Our Power Grid System (Weapon That Can Instantly End Modern Life in America)
Survival MD (Best Post Collapse First Aid Survival Guide Ever)
Backyard Innovator (A Self Sustaining Source Of Fresh Meat,Vegetables And Clean Drinking Water)
Blackout USA (EMP survival and preparedness)
Conquering the coming collapse (Financial advice and preparedness )
Liberty Generator (Build and make your own energy source)
Backyard Liberty (Easy and cheap DIY Aquaponic system to grow your organic and living food bank)
Bullet Proof Home (A Prepper's Guide in Safeguarding a Home )
Family Self Defense (Best Self Defense Strategies For You And Your Family)
 Survive Any Crisis (Best  Items To Hoard For A Long Term Crisis)
Survive The End Days (Biggest Cover Up Of Our President)
Drought USA (Discover The Amazing Device That Turns Air Into Water)