It is NOW Time to Leave the Cities! 
Please note: this is not a rapture or tribulation date-setting video!! There are a number of very significant events that could possibly occur this September, and if they do, could play a role in Bible prophecy. I'm not trying to scare anyone or set any dates for the rapture or tribulation, I am just sharing the news that is already out there, with anyone who is not aware. The more we are aware of these things, the better we can prepare ourselves and are not completely surprised by them if they do happen. Since I obviously did not create, initiate or plan any of these events, just like anyone else, I have no way to know if or when they will happen, until the time comes. If nothing happens, then great, we will have more time for each of us to prepare for when and if they do. I do believe that the elite will have their New World Order achieved at some point, so please just stay current on the news and continue to watch for the signs.

If you make the decision to be saved, it will be the best decision you have ever made. You can start with the "Sinner's Prayer":
"Father, I know that I have broken your laws and my sins have separated me from you. I am truly sorry, and now I want to turn away from my past sinful life toward you. Please forgive me, and help me avoid sinning again. I believe that your son, Jesus Christ died for my sins, was resurrected from the dead, is alive, and hears my prayer. I invite Jesus to become the Lord of my life, to rule and reign in my heart from this day forward. Please send your Holy Spirit to help me obey You, and to do Your will for the rest of my life. In Jesus' name I pray, Amen."
We cannot provide you with particulars for your personal situation because each person's circumstances may be different.
To that end, we pray for you and encourage you to prepare yourself.
What is Happening in September 2015?
Hope for the best, but prepare for the worst.
This is a good motto to live by, despite how you think about things.
Individuals can still hope for the best (that things can and will eventually work out), but what good is your prosperity going to do if you don't have anything to eat or a safe place to hang out for an extended period of time?
Why not prepare while you still can — when things are readily available and can still be purchased at cheap prices? The coming hyper-inflation will make any such purchases beforehand look very intelligent…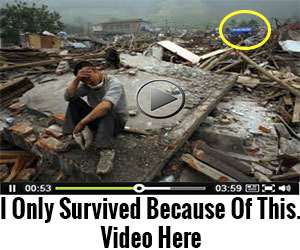 To prepare for the worst, you need a plan. Why are most people so against doing basic preparations that could be the difference on how they survive — or whether they survive?
History shows time and again that those who prepare always fare better than those who did not.
Having a plan and being determined to act on that plan will always be the best way to handle any contingencies, should they occur.
After disaster strikes, your mind is going to be racing around like a car on a race track. Preplanning and having a written set of measures to take will make someone's life go much smoother when the SHTF.
Other useful resources:
Survival MD (Best Post Collapse First Aid Survival Guide Ever)
Backyard Innovator (A Self Sustaining Source Of Fresh Meat,Vegetables And Clean Drinking Water)
Blackout USA (EMP survival and preparedness)
Conquering the coming collapse (Financial advice and preparedness )
Liberty Generator (Build and make your own energy source)
Backyard Liberty (Easy and cheap DIY Aquaponic system to grow your organic and living food bank)
Bullet Proof Home (A Prepper's Guide in Safeguarding a Home )
Family Self Defense (Best Self Defense Strategies For You And Your Family)
Sold Out After Crisis (Best 37 Items To Hoard For A Long Term Crisis)
Survive The End Days (Biggest Cover Up Of Our President)
Drought USA(Discover The Amazing Device That Turns Air Into Water)