NASA Plans for Large Scale Failure, Power Grid
For many it's either tin foil conspiracy theory or an action packed Hollywood Armageddon flick. For the National Aeronautics and Space Administration it's a serious threat, with the potential to wipe out the technologically driven lives we've become so used to.
Our sun is approaching a period of high turbulence, referred to as the solar maximum, with many scientists suggesting a peak in activity around 2015. The cycle occurs every 11 years, and the next time around it is predicted to be one of the weakest in decades. However, some contrary opinions hold that the next solar maximum may be stronger than we expect, citing a 26,000 year galactic alignment cycle, scheduled to occur on or around 2016, eerily coinciding with the end of the Mayan calendar.
One organization that isn't taking any chances is NASA. As the sun begins to awaken, scientists are keeping a close eye on space weather:
"The sun is waking up from a deep slumber, and in the next few years we expect to see much higher levels of solar activity. At the same time, our technological society has developed an unprecedented sensitivity to solar storms. The intersection of these two issues is what we're getting together to discuss."
The National Academy of Sciences framed the problem two years ago in a landmark report entitled "Severe Space Weather Events"Societal and Economic Impacts." It noted how people of the 21st-century rely on high-tech systems for the basics of daily life. Smart power grids, GPS navigation, air travel, financial services and emergency radio communications can all be knocked out by intense solar activity. A century-class solar storm, the Academy warned, could cause twenty times more economic damage than Hurricane Katrina.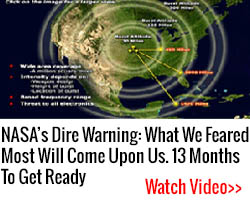 A 132-page NASA funded report titled Severe Space Weather Events"Understanding Societal and Economic Impacts, suggests that the right magnitude storm could be devastating:
The problem begins with the electric power grid. "Electric power is modern society's cornerstone technology on which virtually all other infrastructures and services depend," the report notes. Yet it is particularly vulnerable to bad space weather. Ground currents induced during geomagnetic storms can actually melt the copper windings of transformers at the heart of many power distribution systems. Sprawling power lines act like antennas, picking up the currents and spreading the problem over a wide area. The most famous geomagnetic power outage happened during a space storm in March 1989 when six million people in Quebec lost power for 9 hours.
According to the report, power grids may be more vulnerable than ever. The problem is interconnects. In recent years, utilities have joined grids together to allow long-distance transmission of low-cost power to areas of sudden demand. On a hot summer day in California, for instance, people in Los Angeles might be running their air conditioners on power routed from Oregon. It makes economic sense"but not necessarily geomagnetic sense. Interconnectedness makes the system susceptible to wide-ranging "cascade failures."
To estimate the scale of such a failure, report co-author John Kappenmann of the Metatech Corporation looked at the great geomagnetic storm of May 1921, which produced ground currents as much as ten times stronger than the 1989 Quebec storm, and modeled its effect on the modern power grid. He found more than 350 transformers at risk of permanent damage and 130 million people without power. The loss of electricity would ripple across the social infrastructure with "water distribution affected within several hours; perishable foods and medications lost in 12-24 hours; loss of heating/air conditioning, sewage disposal, phone service, fuel re-supply and so on."
"The concept of interdependency," the report notes, "is evident in the unavailability of water due to long-term outage of electric power–and the inability to restart an electric generator without water on site."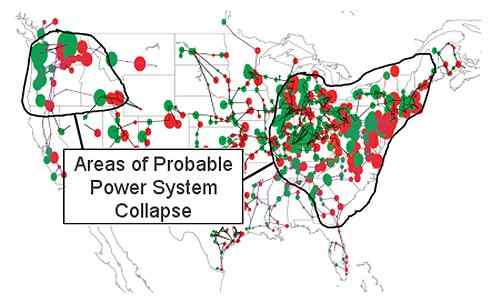 What if the May 1921 super-storm occurred today? A US map of vulnerable transformers with areas of probable system collapse encircled.
The potential for major disruptions to our lives and our modern day just-in-time delivery systems could lead to total chaos in affected areas:
"A contemporary repetition of the Carrington Event would cause " extensive social and economic disruptions," the report warns. Power outages would be accompanied by radio blackouts and satellite malfunctions; telecommunications, GPS  navigation, banking and finance, and transportation would all be affected. Some problems would correct themselves with the fading of the storm: radio and GPS transmissions could come back online fairly quickly. Other problems would be lasting: a burnt-out multi-ton transformer, for instance, can take weeks or months to repair. The total economic impact in the first year alone could reach $2 trillion, some 20 times greater than the costs of a Hurricane Katrina or, to use a timelier example, a few TARPs.
Had the report(s) come from a random SHTF Planning and Preparedness site, we could understand skepticism from the general public. But, since the warnings are coming from NASA, we suggest that citizens interested in preserving their well being, safety and security take note.
While the Quebec incident was a short-term, nine hour down-grid scenario, the US power grid is very much susceptible to a cascading, domino effect across our electrical infrastructures. As suggested by NASA, this would not be limited to your inability to watch television or turn on the lights, but could be much more widespread, affecting critical utility and transportation systems that deliver our food and fuel.
It is quite reasonable to suggest that any significant adverse solar weather event could lead to mass chaos across the entire country as people scramble to acquire necessities like food, water, medicine and secure shelter.
And if the response from our federal, state and local government officials is anything like Hurricane Katrina or the BP oil spill, an event of such magnitude may take weeks, perhaps months to mitigate.

Other useful resources:
Survival MD (Best Post Collapse First Aid Survival Guide Ever)
Backyard Innovator (A Self Sustaining Source Of Fresh Meat,Vegetables And Clean Drinking Water)
Blackout USA (EMP survival and preparedness)
Conquering the coming collapse (Financial advice and preparedness )
Liberty Generator (Build and make your own energy source)
Backyard Liberty (Easy and cheap DIY Aquaponic system to grow your organic and living food bank)
Bullet Proof Home (A Prepper's Guide in Safeguarding a Home )
Family Self Defense (Best Self Defense Strategies For You And Your Family)
Sold Out After Crisis (Best 37 Items To Hoard For A Long Term Crisis)
SOURCE : www.shtfplan.com