Putin Warns Journalists: "We Are Heading Towards Nuclear War"
Vladimir Putin has issued a stern warning to the world's media, saying that the world is heading down a path that could lead to nuclear war.
Speaking with foreign journalists at the St Petersburg International Economic Forum on June 17th, Putin outlined why he thinks a war between Russia and the West is inevitable.
Russia-insider.com reports:
Putin railed against the journalists for their "tall tales" in blindly repeating lies and misinformation provided to them by the United States on its anti-ballistic missile systems being constructed in Eastern Europe. He pointed out that since the Iran nuclear deal, the claim the system is to protect against Iranian missiles has been exposed as a lie.
The journalists were informed that within a few years, Russia predicted the US would be able to extend the range of the system to 1000 km. At that point, Russia's nuclear potential, and thus the nuclear balance between the US and Russia, would be placed in jeopardy.
RELATED : Low-tech EMP to send U.S. back to 'Stone Age'? An EMP attack the Equivalent of an "Electronic Armageddon."
Putin completely lost patience with the journalists, berating them for lazily helping to accelerate a nuclear confrontation by repeating US propaganda. He virtually pleaded with the western media, for the sake of the world, to change their line:
We know year by year what's going to happen, and they know that we know. It's only you that they tell tall tales to, and you buy it, and spread it to the citizens of your countries. You people in turn do not feel a sense of the impending danger – this is what worries me. How do you not understand that the world is being pulled in an irreversible direction? While they pretend that nothing is going on. I don't know how to get through to you anymore.
Does anyone in the reeking garbage heap that is mainstream western media have a conscience? Do they even have enough intellect to get what Putin is saying – that they are helping to push the planet towards World War III?  by Sean Adl-Tabatabai
RELATED : Ingenious Food Recipes That Helped Our Ancestors Stay Alive – How Millions Survived Famine
Alex Jones breaks down the western mainstream media cover-up of Vladimir Putin warning journalists of war. The Russian president met with foreign journalists at the conclusion of the Saint Petersburg International Economic Forum on June 17th, and left no one in any doubt that the world is headed down a course which could lead to nuclear war.
EU parliament passes a bill to censor certain websites that they feel are terrorist related. Obama's drone war kills more civilians than the mass shooting in the US. John Kerry is in Ukraine, the push is on for war escalating in this area. John Kerry indicates that Kiev did all they could to implement the Minsk II but Russia is to blame for it not being implemented. Obama and Putin have a phone call, which is a ploy to by sometime in Syria. Putin addresses reporters and indicates that western reporters and government are pushing for a nuclear war. 
Help us spread the word about the liberty movement, we're reaching millions help us reach millions more.
RELATED : Washington Prepares for World War III – Pentagon is Concerned, a Military Conflict With China and/or Russia is Inevitable
Nobody has anything to gain from a nuclear stand-off against Russia. The power hungry decision-makers are few in number, but powerful enough to have subverted mainstream media to misrepresent Russia as the main threat to international security.
The world never truly understood how close we came to mutually assured destruction. It is important to remember that the rational actions of ONE person can avoid a disaster.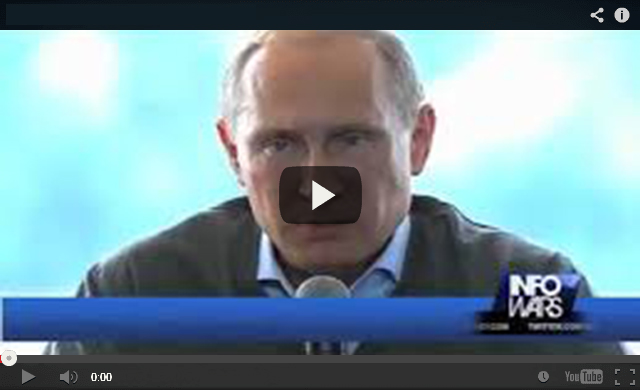 Other useful resources:

The Lost Ways (Learn the long forgotten secrets that helped our forefathers survive famines,wars,economic crisis and anything else life threw at them)
Survival MD (Best Post Collapse First Aid Survival Guide Ever)
Backyard Innovator (A Self Sustaining Source Of Fresh Meat,Vegetables And Clean Drinking Water)
Blackout USA (EMP survival and preparedness)
Conquering the coming collapse (Financial advice and preparedness )
Liberty Generator (Build and make your own energy source)
Backyard Liberty (Easy and cheap DIY Aquaponic system to grow your organic and living food bank)
Bullet Proof Home (A Prepper's Guide in Safeguarding a Home )
Family Self Defense (Best Self Defense Strategies For You And Your Family)
 Survive Any Crisis (Best  Items To Hoard For A Long Term Crisis)
Survive The End Days (Biggest Cover Up Of Our President)
Drought USA (Discover The Amazing Device That Turns Air Into Water)