SEPTEMBER ALERT: POPE FRANCIS MEETS WITH OBAMA IN THE U.S.
Adrian Salbuchi, founder of the Second Republic Project (Argentina). Video describing the "12 Triggers the Global Power Elite will use to impose a World Government".
RELATED : One World Economic Order – Elite Agenda to be Completed in 2015?
Dear Friends and Colleagues,
This coming month of September seems to announce dramatic events and global upheavals.
I thought it would be expedient to draft an article summarizing some of the political, financial, monetary, historical, psychological events and processes that this might involve.
I apologize that this ended up being a bit long (11 pages) but in view of the complexities involved, it was tough making it shorter.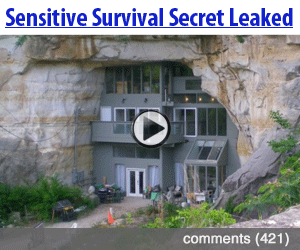 If you agree, please help us spread the word as far and wide as possible.
The more people who become alert, the harder it will be for the increasingly unmasked Global Power Elite to impose their will and plans upon all of us.
RELATED : TERRIFYING FUTURE for HUMANITY in 2015 and Beyond – ELITE AGENDA To ENSLAVE Us Using Technology
Watch my special video on Pope Francis's visit to the US next month:
Mark of The Beast — Politician Calls for Welfare Recipients to be Implanted with Tracking Chips
Implantable RFID tracking chips. You know, to stop terrorism.
And to keep tabs on all the welfare queens, in order to keep tax dollars accountable.
There will be other rationales, too.
But, really, governments just want to do all the spying they can within their power – and right now, technology offers more power than ever before to carry out universal surveillance, track and trace every person and every thing and put civil rights in the backseat where they belong.
RELATED : Terrifying Future for HUMANITY 2015 & Beyond – RFID Chips, Transhumanism, AI and NWO
The latest proposal from a politician in the Finnish government seems like a near-future dystopic film, but may not be far reality.
A politician from Finland's conservative Finns Party suggested implanting welfare recipients with satellite-tracking chips following news that some recipients continued receiving payments after leaving the country to join ISIL.

A member of Finland's right-wing Finns Party, Pasi Maenranta, has suggested implanting all recipients of government assistance with satellite-tracked chips if they choose to leave the country.
Maenranta made the proposal after Finnish media revealed that some recipients of government assistance continued to receive payments after leaving the country to join ISIL in Syria and Iraq.
"The law should be changed: To receive payments from Kela [the Social Insurance Institution], one has to tell exact data about your location using your personal code, read by a satellite. It is also possible to implant electronic chips to all going abroad, who for example receive medical welfare from Kela,"
RELATED : CDC Whistleblower Exposes Ebola
 Vaccinations Containing RFID Chips
September 25-27, 2015: Birth of the New World Order
  The United Nations will be voting on the "post-2015 agenda" on September 25-27, 2015, which combines Agenda 21 and Agenda 2030 for Sustainable Development. Behind this agenda is the Lucis Trust, who is awaiting the arrival of Sananda, the "world teacher."
Survival MD (Best Post Collapse First Aid Survival Guide Ever)
Backyard Innovator (A Self Sustaining Source Of Fresh Meat,Vegetables And Clean Drinking Water)
Blackout USA (EMP survival and preparedness)
Conquering the coming collapse (Financial advice and preparedness )
Liberty Generator (Build and make your own energy source)
Backyard Liberty (Easy and cheap DIY Aquaponic system to grow your organic and living food bank)
Bullet Proof Home (A Prepper's Guide in Safeguarding a Home )
Family Self Defense (Best Self Defense Strategies For You And Your Family)
Sold Out After Crisis (Best 37 Items To Hoard For A Long Term Crisis)
Survive The End Days (Biggest Cover Up Of Our President)
Drought USA(Discover The Amazing Device That Turns Air Into Water)