Survival Bunkers
The concept of using a bunker for shelter during times of disaster is nothing new. However the technologies that affect bunkers have changed radically over the past 20 years!
For the purposes of temporary shelter, most basic underground bunkers will perform as hoped. And when it comes to shelter from a passing tornado, even some homemade bunkers are adequate for the few hours of shelter needed.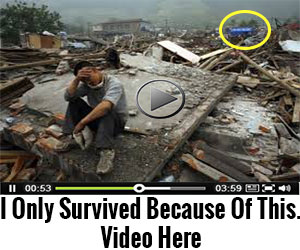 There are various types of underground bunkers that are commercially available and potentially affordable by an average American. In most cases these bunkers involve what is essentially a large steel culvert (10-foot diameter pipe) that has been modified to include some amenities, basic entrance and exit, and a very basic air filtration system. Such pre-made bunkers may cost in excess of $50,000.00 plus the costs to transport and bury the bunker in the desired location, with a total cost under $100K. In reality, there are few applications where the owners of such a bunker might receive a reasonable return on the investments made into such an underground bunker.
The most logical utilization of such a bunker based upon statistical occurrence of natural disasters would be to escape tornadoes, which are of course short-term events. There are potentially a few other scenarios where a bunker might serve a statistically logical purpose, however the odds of such events are remote. And in any case, there are multiple reasons why the occupants of such bunkers will in most cases be unable to stay underground long-term for more than a couple weeks.
When considering the costs related to any bunker project, it certainly makes sense to have some sort of insurance policy in place to cover the bunker and its contents from loss due to theft or vandalism. However, given the locations of most bunkers, most insurance companies won't offer any kind of coverage, so the capital investment that is made for the bunker and its contents (which might exceed the costs of the bunker) will not be insured.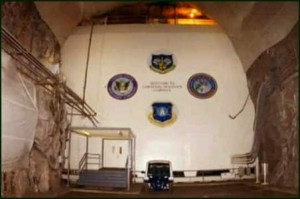 Entrance to a deep underground military bunker ('DUMB')
Of course if money is no object, you can purchase a sophisticated military-grade bunker costing millions of dollars, which will reliably serve the purposes related to long-term underground habitation during long-term disaster scenarios.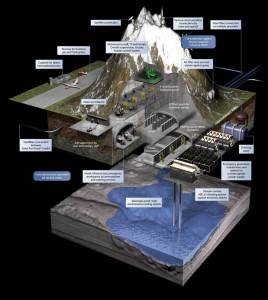 These 'bunkers' are designed by experts and incorporate technologically advanced life support systems, as well as various military-grade security measures, also costing hundreds of thousands of dollars and more. They also incorporate sophisticated measures that help to prevent mental issues from developing during such long-term underground stays, where morale can be critically affected leading to serious social and security problems.
Too many people wrongly believe that you can survive long-term underground in the cheaper underground bunkers. As just one simple example; most people don't realize that a family of four people will produce anywhere from 5-7 gallons of water from respiration and perspiration into their environment every 24 hours. This moisture will condense on the walls and ceiling of any underground structure and will over time collect on the floor (lowest point in the bunker) of the bunker. After a week or so, the water that has condensed becomes foul with fungus, bacteria and viruses and the smell of this toxic liquid will permeate the environment. The equipment required to prevent this (just one of many problems) from happening is not only expensive, but requires a lot of energy to operate, continuously.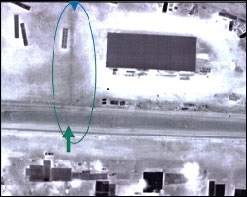 Satellite image showing an underground tunnel 20-feet deep
Another common misconception among survivalists and Preppers is that any bunker will be a secret from other people. I am sorry to break the news to these people but, OPSEC in this and many other matters has been dead for a long time. In regard to bunkers; there are hundreds of advanced satellites that are orbiting the earth which are looking-down all the time. For the past 20 years, some of these satellites have been scanning the ground looking for resources such as oil, water and mineral deposits, and in that mission, they collect and store mountains of data related to the properties of the ground below. This complex data can and is being re-accessed using re-tooled search algorithms that can be designed to find and catalog any underground facilities, even as small as a car buried underground. And now with the advent of the newest super-computers, conducting a search of the archived date and cataloging (with Latitude & Longitude data) these search results are very simple and easy for any government organization. In fact, much of the satellite data can be purchased by private parties as well as foreign entities and the same searches can be undertaken. Just one aspect of this data (and new data being collected now) is being used to locate small underground tunnels at the U.S. borders where drugs, money and people are being smuggled in and out of the U.S.
Tactically speaking, it's also important to give careful consideration to what you would do during long-term crises if your bunker was discovered while you were occupying it. Most people don't realize how easy it is to overcome a civilian grade bunker. Using simple store-bought infrared vision devices aggressors can locate; any infrared surveillance that might be used by the bunker to detect approaching people, the heat signature of a bunker including its air intakes and exhausts, as well as entries and exits. Once these items are noted, the bunker can be approached and overtaken using various methods; simply blocking the air vents will force the occupants to come out after a time. Of course there is also the very real risk that debris could cover and permanently block the entry and exit to a bunker, thereby trapping the people inside, at which point a bunker becomes a tomb.
Considering the use-rate, the costs and the risks, bunkers are not the slam-dunk solution that many people would have you believe.
Other useful resources: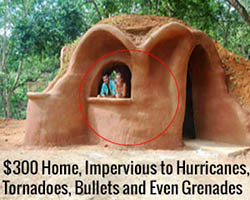 Backyard Innovator (A Self Sustaining Source Of Fresh Meat,Vegetables And Clean Drinking Water)
Blackout USA (EMP survival and preparedness)
Conquering the coming collapse (Financial advice and preparedness )
Liberty Generator (Build and make your own energy source)
Backyard Liberty (Easy and cheap DIY Aquaponic system to grow your organic and living food bank)
Bullet Proof Home (A Prepper's Guide in Safeguarding a Home )
Family Self Defense (Best Self Defense Strategies For You And Your Family)
Sold Out After Crisis (Best 37 Items To Hoard For A Long Term Crisis)
Cheers! Capt. Bill
Capt. William E. Simpson – USMM
http://www.WilliameSimpson.com
Twitter: @NauticalPrepper