The Top 17  Old West Pioneer Recipes You May Need
Many people dream of becoming self-reliant during these times of fluctuating prices and uncertain job security. Using truly simple techniques, you can cultivate the pioneer's independence to provide safety against lost wages, harsh weather, economic recession, and commercial contamination and shortages. Strengthen your family's self-reliance as you discover anew the joy of homegrown food, thrift, and self-sufficient living.
When it comes to provisions for food, preppers and pioneers have lots in common. Advanced preppers who are homesteaders are much like the pioneers who grew their own fruits and root vegetables (mostly carrots, onions and potatoes). They farmed their own grains (mostly corn, oats and wheat). They raised pigs as they enjoyed salt pork (and it preserved well). They kept chickens, ducks and rabbits, and ranched cows and goats for meat and dairy. Pioneers also hunted and foraged for herbs, berries and roots. Drying and cellaring these foods helped keep them through the Winter months.
Gardening. Growing your own vegetables and fruits, knowing soil conditions, how to get water to your plants, extending your harvest season, and common garden pests will be vital to having a continuous food supply. And do it the old fashion way, like our fore-fathers did it and succeed long before us, because what lies ahead of us will require all the help we can get. Watch this video and learn the 3 skills that ensured our ancestors survival in hard times of famine and war. For some great old-time gardening tips. Saving seed for the other end of gardening is being able to plant again next year. Saving seed can be kind of intimidating and mysterious, especially for plants like carrots that don't go to seed in their first growing season.On just a quarter-acre of land, you can produce fresh, organic food for a family of four — year-round! This comprehensive guide to homesteading provides all the information you need to grow and preserve a sustainable harvest of grains and vegetables.  This is definitely a learned skill, but could be vital to a continued food supply.
RELATED : Growing Gourmet Mushrooms at Home from Waste Coffee Grounds & Cleaning, and Preserving your Mushrooms
Which foods can you grab the most of, and get the most out of? It's important to consider calorie count, ease of use / preparation, shelf-life, and even "weight" factored in. Why is weight a factor?
The Top 16 the Old West Pioneer Foods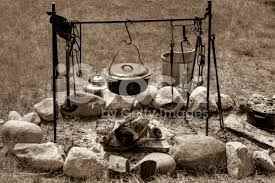 1 CORNMEAL PUDDING
3 Cups cornmeal mash
2 Tablespoons flour
5 Beaten eggs
½ Cup melted butter
1 Cup molasses
½ Cup milk
Juice and rind of 1 lemon
Stir altogether and bake ½ hour in a very moderate oven.
Serve with a sweet sauce
2 HOE CAKE
2 cups corn meal
½ tsp baking powder
½ tsp salt
1 tbs shortening
Combine corn meal, salt, baking powder.
Add melted shortening and stir in water to make a soft dough.
Form into small cakes ½ inch thick
and bake on hot greased griddle until brown.
3 SPOTTED PUP
Take whatever amount needed
for hungry cowboys of fluffy, cooked rice.
Put in Dutch oven and cover with milk and well-beaten eggs.
Add a dash of salt.
Sweeten well with sugar.
Add raisins and a little nutmeg and vanilla.
Bake in slow oven until egg mixture is done and raisins are soft.
4 JERKY GRAVY
Jerky, ground or chopped fine
Little Fat or Grease
Flour
Salt & pepper
Milk
Fry the jerky until done.
Remove meat from grease, and add flour.
Add milk, and salt & pepper. Cook gravy. Add meat to gravy.
The amount of each ingredient depends on how much gravy you want.
5 LEMON PIE
One cup of hot water
One tablespoonful of corn-starch
One cup of white sugar
One tablespoonful of butter
Juice and grated rind of one lemon
Cook for a few minutes; add one egg; bake with a top and bottom crust.
This makes one pie.
6 PORK CAKE
Half a pound of salt pork chopped fine
two cups of molasses
half pound raisins chopped well
two eggs
two teaspoonfuls each:
clove, allspice and mace,
half a tablespoonful of saleratus or soda,
and flour enough to make a stiff batter.
The oven must not be too hot.
7 COOKED CABBAGE SALAD
1 Pint or more of chopped cooked cabbage
Add: 1 Egg well beaten
¼ Cup vinegar
1 Tsp butter
Dash of salt and pepper
Sweeten to suit taste. Simmer a few minutes and add ½ cup of thick fresh cream. Serve immediately.
8 WINTER RED FLANNEL HASH
A great way to use left over corned beef is to add a few new ingredients and create Red Flannel Hash. Who knows who came up with the beets, but it really is colorful, and sticks to the ribs.
1 ½ Cups chopped corned beef
1 ½ Cups chopped cooked beets
1 Medium onion, chopped
4 Cups chopped cooked potatoes
Chop ingredients separately, then mix together.
Heat all ingredients in a well- greased skillet,
slowly, loosen around the edges, and shake to prevent scorching.
After a nice crust forms on bottom, turn out on a warmed plate and serve.
If it seems a little dry add a little beef broth.
Try with a couple poached eggs, for a hearty meal.
9 Spiced Corn Beef
To 10 pounds of beef…
take 2 cups salt
2 cups molasses
2 tablespoonfuls saltpeter
1 tablespoonful ground pepper
1 tablespoonful cloves
Rub well into the beef.
Turn every day, and rub the mixture in.
Will be ready for use in 10 days.
10 Cottage Cheese
Allow milk to form clabber.
Skim off cream once clabbered.
Set clabbered milk on very low heat and cut in 1 inch squares.
Place colander into clabber.
Dip off whey that rises into the colander.
When clabber becomes firm, rinse with cold water.
Squeeze liquid out and press into ball.
Crumble into bowl.
Mix curds with thick cream.
11 Mormon Johnnycake
Here is a form of cornbread used not only by the Mormon immigrants,
as the name indicates, but quite often by most of the immigrants traveling west.
Because of the inclusion of buttermilk, a source of fresh milk was a necessity.
2-cups of yellow cornmeal
½-cup of flour
1-teaspoon baking soda
1-teaspoon salt
Combine ingredients and mix in
2-cups of buttermilk and 2-tablespoons molasses.
Pour into a greased 9" pan and bake at 425 degrees for 20 minutes.
To get a lighter johnnycake include two beaten eggs
and 2 tablespoons melted butter.
12 Soda Biscuits
Take 1lb flour, and mix it with enough milk to make a stiff dough;
dissolve 1tsp carbonate of soda in a little milk;
add to dough with a teaspoon of salt.
Work it well together and roll out thin;
cut into round biscuits, and bake them in a moderate oven.
The yolk of an egg is sometimes added.
13 Vinegar Lemonade
Mix 1 to 2 tablespoons of apple cider vinegar into a 12 ounce glass of water.
Stir in 2 tablespoons of sugar to taste.
Note: The pioneers used vinegar for numerous reasons.
One reason was to add vitamin C to their diet.
14 Fried Apples
Fry 4 slices of bacon in a Dutch oven. Remove bacon.
Peel and slice 6 to 8 Granny Smith apples.
Put apples in Dutch oven with bacon grease,
cover and cook down the apples, but not to mush.
Serve topped with butter or cream and crumbled bacon.
They're great for breakfast or desert!
15 Dutch Oven Trout
As soon as possible after catching your trout,
clean them and wipe the inside and outside of the trout
with a cloth wet with vinegar water.
Don't put the trout in the water.
Roll the trout in a mixture of flour,
dry powdered milk,
cornmeal,
salt and pepper.
Heat deep fat in a Dutch oven and fry until crisp and golden brown.
16 Stuffing For A Turkey
Mix thoroughly a quart of stale bread, very finely grated;
the grated rind of a lemon;
quarter of an ounce of minced parsley and thyme,
one part thyme, two parts parsley;
and pepper and salt to season.
Add to these one unbeaten egg and half a cup of butter;
mix all well together and moisten with hot water or milk.
Other herbs than parsley or thyme may be used if preferred, and a little onion, finely minced, added if desired.
The proportions given here may be increased when more is required
Guidelines for Storing Meat
In the 1800's people in the West didn't have a refrigerator or freezer to keep their meat fresh, so they used other means. Below are summer guidelines for storing meat. Incidentally, we don't recommend your trying these methods today. They are not that dependable.
Cover the meat with sour milk or buttermilk and store in a cellar.
In areas where the nights are cool, hang the meat in the open from a tree so any breeze can pass around it. Make sure the meat is brought inside at dawn. During the day wrap the meat in a tarp and store in a shady place. Make sure the blow flies don't deposit eggs on the meat.Click here for more info.
Keep the meat away from rain and damp nights. Any meat that gets wet must be cooked or jerked immediately.
17 Oregon Trail Breakfast
Cornmeal Mush
1 Cup cornmeal
4 Cups boiling water
1 Tablespoon lard
1 Teaspoon salt
Dried currents
Put currents into water and bring to boil. Sprinkle cornmeal into boiling water stirring constantly, adding lard and salt. Cook for about 3 minutes. Pour in bowls and top with milk, butter and molasses.
Note, many non-perishable foods such as several listed here don't have a long shelf life, usually just several months. You'll want to have a system in place in order to "cycle" your non-perishable food before it expires: When non-perishable food nears it's expiration date, either eat it or even donate it to a local food bank (food banks usually give food away within a short time of receiving a donation). Then, once again purchase fresh non-perishable food and add it to your emergency food stores. With a system like this in place, you'll have a continual supply of fresh non-perishable foods. That way, if a catastrophic disaster strikes, you'll have a variety of non-perishable foods for at least the first few months following the disaster and you or your family won't have to rely solely on freeze dried food, as so many people are stocking up on today.
Besides their obvious uses to yourself and your family, most of these skills can be used to barter with as well. So while you're acquiring your preparedness gear, remember to add some skills to your inventory also. If you're not sure where to learn some of these old time skills, start with this book. And enjoy the learning journey!
RELATED : UN Ordered Depopulation of 3 Billion People by Food Malnutrition Has Started
RELATED : Living Off the Land Are You Ready? How to Live Off The Land if a Complete Breakdown of Society Ever Occurs
RELATED : 5 DIY Off-Grid Projects For This Summer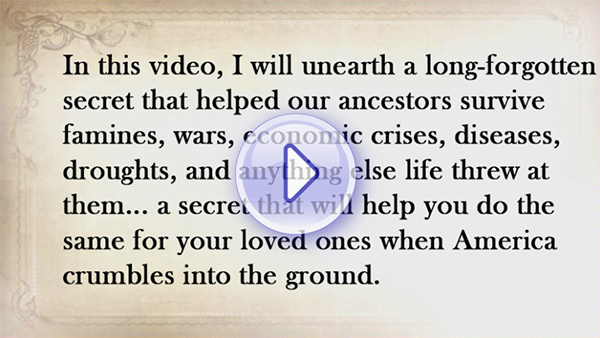 Other useful resources:
The Lost Ways (Learn the long forgotten secrets that helped our forefathers survive famines,wars,economic crisis and anything else life threw at them)
Survival MD (Best Post Collapse First Aid Survival Guide Ever)
Backyard Innovator (A Self Sustaining Source Of Fresh Meat,Vegetables And Clean Drinking Water)
Blackout USA (EMP survival and preparedness)
Conquering the coming collapse (Financial advice and preparedness )
Liberty Generator (Build and make your own energy source)
Backyard Liberty (Easy and cheap DIY Aquaponic system to grow your organic and living food bank)
Bullet Proof Home (A Prepper's Guide in Safeguarding a Home )
Family Self Defense (Best Self Defense Strategies For You And Your Family)
 Survive Any Crisis (Best  Items To Hoard For A Long Term Crisis)
Survive The End Days (Biggest Cover Up Of Our President)
Drought USA (Discover The Amazing Device That Turns Air Into Water)