Tips That Will Help You Prepare For The Coming Economic Depression
What do we need to do in order to prepare for the coming economic collapse? Are there practical steps that we can take right now that will help us and our families survive the economic depression that is approaching? As the publisher of The Economic Collapse Blog, I get asked these kinds of questions a lot. Once people become convinced that an economic collapse is coming, they want to know what they should do.
This first set of tips are 11 things that I strongly encourage my readers to do…
#1 Have An Emergency Fund – This is so important that I wrote an entire article about this recently.
#2 Don't Put All Of Your Eggs Into One Basket – In addition to having an emergency fund, you will also want to have gold, silver and other hard assets. It is also a very good idea to keep a limited amount of cash at home in case you can't access an ATM during a major emergency of some sort.
#3 Reduce Your Expenses And Get Out Of Debt – During a time of crisis you want to be as "lean and mean" as possible. If you simplify your life and reduce your debt load now, you will be in much better shape when the next economic depression does arrive.
#4 Move Your Money Away From Unsafe Investments – When the financial world falls apart, you don't want your finances to be exposed. Markets tend to go down much faster than they go up, and during the next great financial crisis millions of Americans that have their life savings in stocks and bonds are going to get totally wiped out.
#5 Store Food And Supplies – Your dollars will never stretch farther than they do right now. You probably will not need emergency food and supplies in the short-term, but the truth is that none of us ever knows when a major emergency will strike. During 2014, my wife and I felt more of an urgency to stock up then ever before, and I hope that people are using this brief period of relative stability to do what they can to get prepared.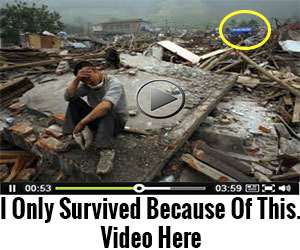 #6 Learn To Grow Your Own Food – Anything that you can do to become more independent of the system is a good thing. This includes growing your own food. And the truth is that some of the most expensive items in the grocery store these days are fresh fruits and vegetables.
#7 Defending Yourself And Your Family – As our world become increasingly unstable, people are going to become a lot more desperate. And desperate people do desperate things. You are going to need to have a plan for that.
#8 Move Away From The Big Cities If Possible – For a lot of people that are dependent on their current jobs, this is simply not possible right now. But if it is possible for you, this is something that I strongly recommend that you think about. Being stuck in the middle of a major city is not going to be a good place to be in the years ahead.
#9 Be Ready To Bug Out – There may come a time when you are forced to evacuate from your current location. This may happen with very short notice. If this ever does happen to you, the key will be to be prepared for it.
#10 Build A Community – Your neighbors and close friends can be an invaluable resource. A cord of multiple threads is not easily broken, and if you have people that you can depend upon during a crisis that can make a world of difference.
#11 Have A Back-Up Plan And Be Flexible – Mike Tyson once aptly observed that everyone has a plan until they get punched in the mouth. The years ahead are going to require a great deal of flexibility, and you may find that the plans that you have made need to be altered. So don't get fixated on just one approach. By Michael Snyder (source)
Here is part two of my appearance as a guest with David Kobler on Today's Survival Show. We discuss practical prepping tips and how to be better prepared for the inevitable collapse.
Here are 25 Things That You Should Do To Get Prepared For The Coming Economic Collapse

Other useful resources:
Survival MD (Best Post Collapse First Aid Survival Guide Ever)
Backyard Innovator (A Self Sustaining Source Of Fresh Meat,Vegetables And Clean Drinking Water)
Blackout USA (EMP survival and preparedness)
Conquering the coming collapse (Financial advice and preparedness )
Liberty Generator (Build and make your own energy source)
Backyard Liberty (Easy and cheap DIY Aquaponic system to grow your organic and living food bank)
Bullet Proof Home (A Prepper's Guide in Safeguarding a Home )
Family Self Defense (Best Self Defense Strategies For You And Your Family)
Sold Out After Crisis (Best 37 Items To Hoard For A Long Term Crisis)
Survive The End Days (Biggest Cover Up Of Our President)
Drought USA(Discover The Amazing Device That Turns Air Into Water)