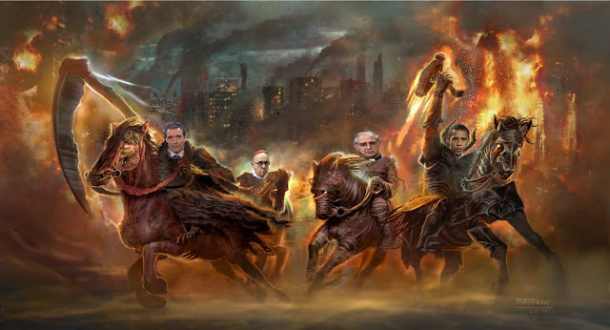 WORLD WAR 3  HAS ALREADY BEGUN
 Apocalypse Conspiracy  – Illuminati World War III – Planned and executed by shadowy multi-generational fascists bent on world domination and genocidal depopulation, the wars surrounding Israel and Nuclear Armageddon are being scripted to usher in a totalitarian one world government for the western and European oligarchy, and elite bankster class. The film paints a very bleak picture of the state of world affairs with few glimmers of hope, however viable options are presented, and the brutal truth is revealed on such issues as Syria, Iran, Russia, China, DPRK, Missile Defense, Depleted Uranium Munitions, Israel and Palestine, past wars, economic slavery, and the march to WW3. 

Also, regarding the video being mostly RT and Press TV news clips, the point was the prominent alternative media guests and subject matter, the fact that these stories arent told on cnn or msnbc or ctv only further proves that the western blocs bankster occupied commonwealth nations media is too censored to allow such monumental and apocalypse averting discussion. Most of the guests and reporters themselves are in fact American patriots and not affiliated with Iranian or Russian government at all.



To clarify further, this video does not intend to predict apocalyptic wars, heinous 9/11 scale false flag terror attacks, civil war, genocidal ramping up of the depopulation agenda, or total collapse for 2013 specifically, (however probable); 2014 is in the title because that was the compilation date as well as most of the content revolves around war scenarios coalescing in 2014. The subject content is very relevant for the summer of 2013 and beyond, as we see the WW3 triggers being pulled with reckless abandon on the diplomatic, covert, and military provocation side of world affairs. According to Pentagon war planning the current war agendas are fore-casted out as far as 2025, and by then they plan on basically having conquered every nation on Earth, great or small, nuclear armed or not. (Killing in the name of peace of course) As many of you know, they are well on their way in that aim already, (one world government) with UN, NATO, USA, and other puppet powers war efforts, however the chances of total one world government coming to fruition without hellish nuclear war being triggered is about as bleak a prospect as a snowballs chance in Hell. Ending this mission impossible march to oblivion is of paramount importance and is the main goal of the video; having awakened to the apocalypse conspiracy, it is up to viewers to do whatever they can to stop this slow march to Hell on Earth.

Diplomacy must not fail. Time runs short. Can Nuclear Armageddon be avoided, or will it be imposed by warmongers bent on world domination.  
TOMORROW MAY BEE TOO LATE!!!!!
Further confirmation of these attacks was released by theZerohedge News Service, one of the most respected financial websites in the world, who in their article  titled US Preparing 'Surgical' Strikes Against Iran warned:

"Israeli PM Benjamin Netanyahu says his nation must prepare for the threat of a chemical attack from Syria, amid concern at enemy efforts to test a post-election coalition Israel, and, as Bloomberg reports, has deployed its new Iron Dome anti-missile system near the border with its northern neighbor. Along with this concern, as many have perhaps suspected, the Israeli Defense Minister confirmed yesterday that the US has prepared plans for a 'surgical' military operation to delay Iran's nuclear program."

Interesting to note, this report says, is that during this past week, all of the users of the CIA-backedsocial media websites Facebook and Instagram (owned by Facebook) who made postings of the Britam hack, or links about it, had their accounts suspended and were denied reentry unless they submitted a US government approved ID.



Russian legal analysts further note in this report that should the Obama regime unleash chemical weapons in Syria it would be a "gross violation" of international law subjecting nearly all top US officials, including their President, to charges of committing "crimes against humanity."
Unbeknownst to the greater number of American people, this report continues, are that the so-called revolutions in Libya and Syria are nothing more than CIA operations who while using the vast resources of their government and military have nearly destroyed these two nations and their peoples.
Obama's Israel Speech Bunked
Other useful resources: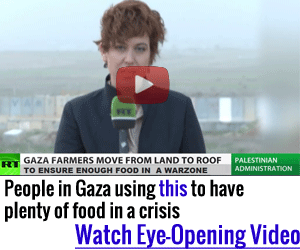 Blackout USA (EMP survival and preparedness)
Conquering the coming collapse (Financial advice and preparedness )
Liberty Generator (Build and make your own energy source)
Backyard Liberty (Easy and cheap DIY Aquaponic system to grow your organic and living food bank)

SOURCE : blogdogcicle.blogspot.ro