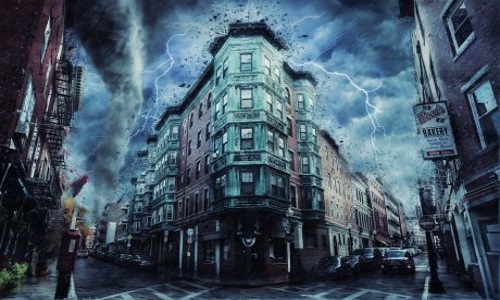 Two major hurricanes, unprecedented earthquake swarms and wildfires roaring out of control all over the northwest United States – what else will go wrong next?  When I originally pointed to the month of September as a critical time, I had no idea that we would see so many catastrophic natural disasters during this time frame as well.  Hurricane Harvey just broke the all-time record for rainfall in the continental United States, Hurricane Irma is so immensely powerful that it has been called "a lawnmower from the sky", vast stretches of our country out west are literally being consumed by fire, and the magnitude-8.2 earthquake that just hit Mexico was completely unexpected.  As I have stated so many times before, our planet is becoming increasingly unstable, but most people simply do not understand what is happening.
My good friend Zach Drew is getting married next month, and I would encourage everyone to go wish him well on Facebook.  On Friday, he posted the best summary of the major disasters that we have been experiencing so far this month that I have seen anywhere…
 California is on fire.

 Oregon is on fire.

 Washington is on fire.

 British Columbia is on fire.

 Alberta is on fire

 Montana is on fire.

 Nova Scotia is on fire.

 Greece is on fire.

 Brazil is on fire.

 Portugal is on fire.

 Algeria is on fire.

 Tunisia is on fire.

 Greenland is on fire.

 The Sakha Republic of Russia is on fire.

 Siberia is on fire.
 Texas is under water

 India, Nepal, Pakistan, and Bangladesh, experience record monsoons and massive death toll.

 Sierra Leone and Niger experience massive floods, mudslides, and deaths in the thousands.
 Italy, France, Spain, Switzerland, Hungary, Poland, Romania, Bosnia, Croatia, and Serbia are crushed in the death grip of a triple digit heat wave, dubbed Lucifer.

 Southern California continues to swelter under triple digit heat that shows no sign of letting up.

 In usually chilly August, the city of San Francisco shatters all-time record at 106 degrees, while it reaches 115 degrees south of the city. Northern California continues to bake in the triple digits.
((
)) Yellowstone volcano is hit with earthquake swarm of over 2,300 tremors since June, recording a 4.4 quake on June 15, 20017 and 3.3 shaker on August 21, 2017.
((
)) 5.3 earthquake rumbles through Idaho
((
)) Japan earthquake 6.1 possible tsunami..
((
)) Mexico earthquake 8.2 imminent tsunami. Beach lines are receded atleast 50+ meters
 Hurricanes Harvey, Irma (biggest ever recorded), Jose and Katia are barreling around the Atlantic with 8 more potentials forming
And last but not least an X10 C.M.E solar flare two nights ago. The highest recorded solar flare ever!
*****
READ  MORE : Power Grid Warnings Have Gone Out For United States Power Grids Due To Solar Storm!
For much more from Zach, you can follow his work regularly at TruNews.com.
Some are describing what is happening to us as a "perfect storm", and they are wondering if even more major disasters are coming in the very near future.
Let us hope not, because there is a tremendous amount of concern that we may not be able to pay for the disasters that have happened already.  The following comes from Politico…
Harvey and Irma could be a breaking point. At $556 billion, the Houston metropolitan area's economy is bigger than Sweden's. New Jersey could easily fit inside the region's sprawling footprint, where Harvey dumped 34 trillion gallons of water, as much as the three costliest floods in Texas history combined. The Harvey response alone eventually could double the $136 billion in government aid spent after Hurricane Katrina flooded New Orleans.

And as of Friday, an estimated $1.73 trillion worth of real estate was in the path of Irma's hurricane-force winds, according to the University of Wisconsin's Cooperative Institute for Meteorological Satellite Studies.
We won't know the true extent of the damage that has been caused down in Florida for many days, but we do know that much of the state is already without power…
More than 3.3 million homes and businesses and counting have lost power in Florida as Hurricane Irma moves up the peninsula. The widespread outages stretch from the Florida Keys all the way into central Florida. Florida Power & Light, the state's largest electric utility, said there were nearly 1 million customers without power in Miami-Dade County alone. The power outages are expected to increase as the storm edges further north. There are roughly 7 million residential customers in the state.
In the end, the federal government will likely step in and spend a lot of money that it does not have to rebuild and restore the communities that Hurricane Harvey and Hurricane Irma have destroyed.
But we are already 20 trillion dollars in debt, and it is being projected that we will continue to add another trillion dollars to that total every year for the foreseeable future.
At some point all of this debt will simply become completely unsustainable.
Of course the major disasters will just inevitably keep on coming.  As Politico has pointed out, major natural disasters seem to just keep on getting bigger, and they seem to be hitting us more frequently than in the past…
The disasters are arriving with greater frequency. Counting Harvey, the U.S. this year has experienced 10 weather-related events each costing $1 billion or more. The country averaged fewer than six big-dollar storms, flood, fires and freezes a year between 1980 and 2016, according to the National Oceanic and Atmospheric Administration. Between 2012 and 2016, however, weather catastrophes occurred almost twice as often.
I know that I have been writing about these hurricanes a lot in recent weeks, and I promise to get back to focusing on the economy in the days to come.
But it is absolutely imperative that we all begin to understand that something has fundamentally changed.  Our world has become much less stable, and "apocalyptic events" are starting to hit us one after another.
READ MORE : Say Goodbye to the 50 States, Get Ready for FEMA Regions For the North American Union
So will things start to calm down in the months ahead?  Please feel free to tell us what you think by posting a comment below…
Survival Food Prepping Ideas/ULTIMATE Top Skills 2017
Discover how to survive: Most complete survival tactics, tips, skills and ideas like how to make pemmican, snow shoes, knives, soap, beer, smoke houses, bullets, survival bread, water wheels, herbal poultices, Indian round houses, root cellars, primitive navigation, and much more at: The Lost Ways
Here's just a glimpse of what you'll find in The Lost Ways:
From Ruff Simons, an old west history expert and former deputy, you'll learn the techniques and methods used by the wise sheriffs from the frontiers to defend an entire village despite being outnumbered and outgunned by gangs of robbers and bandits, and how you can use their wisdom to defend your home against looters when you'll be surrounded.
Native American ERIK BAINBRIDGE – who took part in the reconstruction of the native village of Kule Loklo in California, will show you how Native Americans build the subterranean roundhouse, an underground house that today will serve you as a storm shelter, a perfectly camouflaged hideout, or a bunker. It can easily shelter three to four families, so how will you feel if, when all hell breaks loose, you'll be able to call all your loved ones and offer them guidance and shelter? Besides that, the subterranean roundhouse makes an awesome root cellar where you can keep all your food and water reserves year-round.
From Shannon Azares you'll learn how sailors from the XVII century preserved water in their ships for months on end, even years and how you can use this method to preserve clean water for your family cost-free.
Mike Searson – who is a Firearm and Old West history expert – will show you what to do when there is no more ammo to be had, how people who wandered the West managed to hunt eight deer with six bullets, and why their supply of ammo never ran out. Remember the panic buying in the first half of 2013? That was nothing compared to what's going to precede the collapse.
From Susan Morrow, an ex-science teacher and chemist, you'll master "The Art of Poultice." She says, "If you really explore the ingredients from which our forefathers made poultices, you'll be totally surprised by the similarities with modern medicines." Well…how would you feel in a crisis to be the only one from the group knowledgeable about this lost skill? When there are no more antibiotics, people will turn to you to save their ill children's lives.
If you liked our video tutorial on how to make Pemmican, then you'll love this: I will show you how to make another superfood that our troops were using in the Independence war, and even George Washington ate on several occasions. This food never goes bad. And I'm not talking about honey or vinegar. I'm talking about real food! The awesome part is that you can make this food in just 10 minutes and I'm pretty sure that you already have the ingredients in your house right now.
Really, this is all just a peek.
The Lost Ways is a far-reaching book with chapters ranging from simple things like making tasty bark-bread-like people did when there was no food-to building a traditional backyard smokehouse… and many, many, many more!
And believe it or not, this is not all…
Table Of Contents:
The Most Important Thing
Making Your Own Beverages: Beer to Stronger Stuff
Ginger Beer: Making Soda the Old Fashioned Way
How North American Indians and Early Pioneers Made Pemmican
Spycraft: Military Correspondence During The 1700's to 1900's
Wild West Guns for SHTF and a Guide to Rolling Your Own Ammo
How Our Forefathers Built Their Sawmills, Grain Mills,and Stamping Mills
How Our Ancestors Made Herbal Poultice to Heal Their Wounds
What Our Ancestors Were Foraging For? or How to Wildcraft Your Table
How Our Ancestors Navigated Without Using a GPS System
How Our Forefathers Made Knives
How Our Forefathers Made Snow shoes for Survival
How North California Native Americans Built Their Semi-subterranean Roundhouses
Our Ancestors'Guide to Root Cellars
Good Old Fashioned Cooking on an Open Flame
Learning from Our Ancestors How to Preserve Water
Learning from Our Ancestors How to Take Care of Our Hygiene When There Isn't Anything to Buy
How and Why I Prefer to Make Soap with Modern Ingredients
Temporarily Installing a Wood-Burning Stove during Emergencies
Making Traditional and Survival Bark Bread…….
Trapping in Winter for Beaver and Muskrat Just like Our Forefathers Did
How to Make a Smokehouse and Smoke Fish
Survival Lessons From The Donner Party
Books can be your best pre-collapse investment.
The Lost Ways (Learn the long forgotten secrets that helped our forefathers survive famines,wars,economic crisis and anything else life threw at them)
Survival MD (Best Post Collapse First Aid Survival Guide Ever)
Conquering the coming collapse (Financial advice and preparedness )
Liberty Generator (Build and make your own energy source)
Backyard Liberty (Easy and cheap DIY Aquaponic system to grow your organic and living food bank)
Bullet Proof Home (A Prepper's Guide in Safeguarding a Home )
Family Self Defense (Best Self Defense Strategies For You And Your Family)
 Survive Any Crisis (Best  Items To Hoard For A Long Term Crisis)
Survive The End Days (Biggest Cover Up Of Our President)
Drought USA (Discover The Amazing Device That Turns Air Into Water)
Michael Snyder is a Republican candidate for Congress in Idaho's First Congressional District, and you can learn how you can get involved in the campaign on his official website. His new book entitled "Living A Life That Really Matters" is available in paperback and for the Kindle on Amazon.com.