The Global Famine Begins
We always knew that this would start happening.  Earlier this month, I wrote about the severe economic problems that are plaguing South America, but up to this point I have neglected to discuss the horrific famines that are breaking out all over Africa.  Right now there is a desperate need for food in South Sudan, Somalia, northeast Nigeria, Eritrea and Kenya.  And Yemen, even though it is not technically part of Africa, is being affected by many of the same factors that are crippling nations all over eastern Africa.  The United Nations says that more than 20 million people could die from starvation and disease if nothing is done.  When I write about economic collapse, this is the kind of thing that I am talking about, and we are starting to see alarming conditions spread across the globe.  Many believe that we could never possibly face this kind of food crisis in the western world, but unfortunately wishful thinking will only get you so far.
The United Nations was formed in 1945, and the UN has just announced that what we are facing this year is "the largest humanitarian crisis since the creation of the UN".  The following comes from a CNN article entitled "20 million at risk of starvation in world's largest crisis since 1945, UN says"…
"We stand at a critical point in history. Already at the beginning of the year we are facing the largest humanitarian crisis since the creation of the UN," UN humanitarian chief Stephen O'Brien said Friday.

"Now, more than 20 million people across four countries face starvation and famine. Without collective and coordinated global efforts, people will simply starve to death. Many more will suffer and die from disease."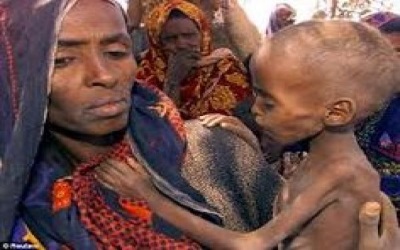 Word of the day: Prepare! And do it the old fashion way, like our fore-fathers did it and succeed long before us, because what lies ahead of us will require all the help we can get. Watch this video and learn the 3 skills that ensured our ancestors survival in hard times of famine and war.
It would be hard to overstate the level of human suffering that we are witnessing in many parts of Africa at this moment.  In Somalia, the UN estimates that more than 6 million people are in desperate need of food aid…
As Somalia inches closer to a calamitous famine, the prospect of utter devastation and colossal loss of human life is once again becoming an imminent reality. The humanitarian situation in Somalia is deteriorating by the day with up to 6.2 million people in need of urgent aid. People across Somalia have been forced to walk hundreds of miles in search of food, water and shelter- with women and children disproportionately affected. Over 300,000 children under the age of five are severely malnourished, with over 200,000 more children at risk of acute malnutrition.
In South Sudan, close to half the population is in dire need of assistance, and things have gotten so bad there that people will literally eat grass if they can find it…
Across South Sudan more than one million children are believed to be acutely malnourished and UNICEF have said that if urgent aid does not reach them, many of them will die. "There is no food, we eat anything we can find," one South Sudanese mother told ITV. "We will find grass, we will eat it. That's just the way it us for us now."
Over in Yemen, there are about seven million people in need of food help, and authorities are warning that if nothing is done "millions of children" could starve to death…
"The numbers affected are absolutely extraordinary," said Mark Kaye, Save the Children's Yemen spokesperson.

"We keep on talking about a country that's on the brink of famine, but for me these numbers highlight that we're at the point of no return. If things are not done now we are going to be looking back on this and millions of children will have starved to death, and we'll all have been aware of this for some time. That will shame us as an international community for years to come.
Eritrea was not specifically included in the recent UN alert, but it should have been.  Much of the country has been hit by a crippling drought, and approximately half of all children in Eritrea are stunted…
But we cannot understand why Eritrea is not included in the appeal. Unicef has confirmed what we know from our friends and families inside the country. In a report in January, the agency said that the El Niño drought has hit half of all Eritrea's regions. Acute malnutrition is widespread. As Unicef put it: "Malnutrition rates already exceeded emergency levels, with 22,700 children under five projected to suffer from severe acute malnutrition in 2017 … Half of all children in Eritrea are stunted, and as a result, these children are even more vulnerable to malnutrition and disease outbreaks."
We have been warned that there would be famines in diverse places in these times.  But here in the western world we tend to be lulled into a false sense of security by our comfortable lives, not realizing that the massively inflated standard of living that we have been enjoying has been fueled by the largest mountain of debt in the history of the planet.
In Kenya, a national emergency has been declared due to drought and famine.  For those of you that are parents, what would you do if your children were crying out for food but you didn't have anything to give them?  The following story from Kenya is beyond heartbreaking…
Emmanuel Ayapar is three years old and can no longer walk. The flesh on his legs, which dangle from his mother's hip as she carries him around, is wasting away.

He seems listless and sad, tongue flicking repeatedly in and out of his mouth.

'We do not have enough food,' said Veronica, his 28-year-old mother. 'We eat only once a day.'

The little boy is suffering from severe malnutrition and is at risk of starving to death. He weighs just 15lb – half the typical weight for a boy of his age.
I don't even know what to say after that.
In the western world we can be so incredibly self-absorbed that we don't even realize that children are literally starving to death on the other side of the planet.
Hopefully those of us that live in "wealthy" western countries will step up to the plate and aid those in need, and hopefully this crisis will also help us to understand that we need to prepare for the day when things get difficult in our own nations too.
Survival Food Prepping Ideas/ULTIMATE Top Skills 2017
Discover how to survive: Most complete survival tactics, tips, skills and ideas like how to make pemmican, snow shoes, knives, soap, beer, smoke houses, bullets, survival bread, water wheels, herbal poultices, Indian round houses, root cellars, primitive navigation, and much more at: The Lost Ways
The Lost Ways is a far-reaching book with chapters ranging from simple things like making tasty bark-bread-like people did when there was no food-to building a traditional backyard smokehouse… and many, many, many more!
Here's just a glimpse of what you'll find in The Lost Ways:
From Ruff Simons, an old west history expert and former deputy, you'll learn the techniques and methods used by the wise sheriffs from the frontiers to defend an entire village despite being outnumbered and outgunned by gangs of robbers and bandits, and how you can use their wisdom to defend your home against looters when you'll be surrounded.
Native American ERIK BAINBRIDGE – who took part in the reconstruction of the native village of Kule Loklo in California, will show you how Native Americans build the subterranean roundhouse, an underground house that today will serve you as a storm shelter, a perfectly camouflaged hideout, or a bunker. It can easily shelter three to four families, so how will you feel if, when all hell breaks loose, you'll be able to call all your loved ones and offer them guidance and shelter? Besides that, the subterranean roundhouse makes an awesome root cellar where you can keep all your food and water reserves year-round.
From Shannon Azares you'll learn how sailors from the XVII century preserved water in their ships for months on end, even years and how you can use this method to preserve clean water for your family cost-free.
Mike Searson – who is a Firearm and Old West history expert – will show you what to do when there is no more ammo to be had, how people who wandered the West managed to hunt eight deer with six bullets, and why their supply of ammo never ran out. Remember the panic buying in the first half of 2013? That was nothing compared to what's going to precede the collapse.
From Susan Morrow, an ex-science teacher and chemist, you'll master "The Art of Poultice." She says, "If you really explore the ingredients from which our forefathers made poultices, you'll be totally surprised by the similarities with modern medicines." Well…how would you feel in a crisis to be the only one from the group knowledgeable about this lost skill? When there are no more antibiotics, people will turn to you to save their ill children's lives.
If you liked our video tutorial on how to make Pemmican, then you'll love this: I will show you how to make another superfood that our troops were using in the Independence war, and even George Washington ate on several occasions. This food never goes bad. And I'm not talking about honey or vinegar. I'm talking about real food! The awesome part is that you can make this food in just 10 minutes and I'm pretty sure that you already have the ingredients in your house right now.
Really, this is all just a peek.
The Lost Ways is a far-reaching book with chapters ranging from simple things like making tasty bark-bread-like people did when there was no food-to building a traditional backyard smokehouse… and many, many, many more!

And believe it or not, this is not all…
Table Of Contents:
The Most Important Thing
Making Your Own Beverages: Beer to Stronger Stuff
Ginger Beer: Making Soda the Old Fashioned Way
How North American Indians and Early Pioneers Made Pemmican
Spycraft: Military Correspondence During The 1700's to 1900's
Wild West Guns for SHTF and a Guide to Rolling Your Own Ammo
How Our Forefathers Built Their Sawmills, Grain Mills,and Stamping Mills
How Our Ancestors Made Herbal Poultice to Heal Their Wounds
What Our Ancestors Were Foraging For? or How to Wildcraft Your Table
How Our Ancestors Navigated Without Using a GPS System
How Our Forefathers Made Knives
How Our Forefathers Made Snow shoes for Survival
How North California Native Americans Built Their Semi-subterranean Roundhouses
Our Ancestors'Guide to Root Cellars
Good Old Fashioned Cooking on an Open Flame
Learning from Our Ancestors How to Preserve Water
Learning from Our Ancestors How to Take Care of Our Hygiene When There Isn't Anything to Buy
How and Why I Prefer to Make Soap with Modern Ingredients
Temporarily Installing a Wood-Burning Stove during Emergencies
Making Traditional and Survival Bark Bread…….
Trapping in Winter for Beaver and Muskrat Just like Our Forefathers Did
How to Make a Smokehouse and Smoke Fish
Survival Lessons From The Donner Party
Books can be your best pre-collapse investment.
The Lost Ways (Learn the long forgotten secrets that helped our forefathers survive famines,wars,economic crisis and anything else life threw at them)
Survival MD (Best Post Collapse First Aid Survival Guide Ever)
Conquering the coming collapse (Financial advice and preparedness )
Liberty Generator (Build and make your own energy source)
Backyard Liberty (Easy and cheap DIY Aquaponic system to grow your organic and living food bank)
Bullet Proof Home (A Prepper's Guide in Safeguarding a Home )
Family Self Defense (Best Self Defense Strategies For You And Your Family)
 Survive Any Crisis (Best  Items To Hoard For A Long Term Crisis)
Survive The End Days (Biggest Cover Up Of Our President)
Drought USA (Discover The Amazing Device That Turns Air Into Water)
SOURCE : theeconomiccollapseblog.com