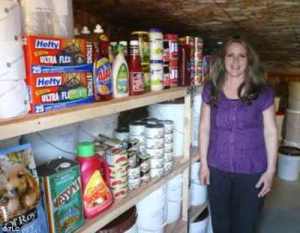 Organised by nature: Post-apocalypse life will still involve washing the dishes and taking rubbish out, according to Peggy Layton's hoarded supplies
Preparing
Post-apocalyptic worlds may exist on the big screen and in sci-fi novels, but that's where the similarities between a disaster-ravaged planet and daily life in America end.
Or so you may think.
A new TLC show introduces us to the families who live in fear of the apocalypse, convinced by the inevitability of the end of the world as they know it.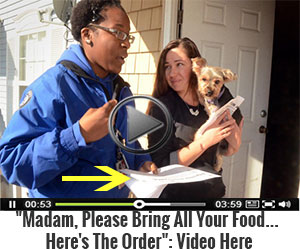 Organised by nature: Post-apocalypse life will still involve washing the dishes and taking rubbish out, according to Peggy Layton's hoarded supplies
But far from admitting defeat, the programme instead focuses on their preparations for life after destruction. And, as TLC shows, survival tactics take on many forms.
Livin' for the Apocalypse follows four families who are not only predicting the apocalypse but preparing for its arrival. The measures that they are taking now, are they believe, the key to their survival if economic collapse, doomsday predictions, natural disasters, alien invasion, meteor strikes or zombie viruses ever take grip of planet earth.
Meet Peggy and Scott Layton. The parents of seven children, the Laytons believe they are 'ready for anything.'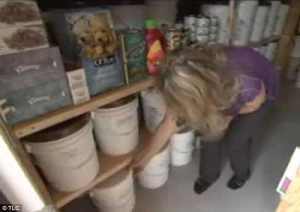 Stockpiling: Peggy Layton has vast amounts of storage for foods, including sealed buckets of soups and stews – and dog food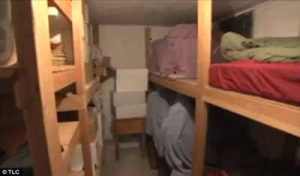 Good night: The Laytons have an underground bunker beneath Peggy's office, complete with bunk beds and a full kitchen and dining area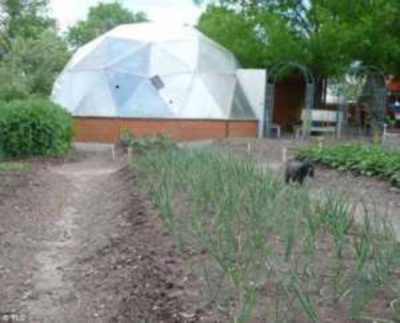 Geodesic: As well as their bunkers and vast food supplies, the Laytons have a greenhouse and grow vegetation for animal fodder
The family from Manti, Utah, have a garden to live from and a root cellar that can double as a bomb shelter as well as a home in the mountains – protected by Mr Layton's large supply of firearms – that they will escape to should disaster or invasion ever make the city unsafe.
'We won't go down without a fight,' says the father and plumber.
Mrs Layton's office has an entire underground bunker system including bedrooms with bunk beds, a kitchen and dining room and, of course, ample storage for food and supplies.
Determined to hoard as much food as she can fit in her bunker, she has has made a whole career from preparing for the end of the world as she knows it. She has published seven books to date, all focusing on the key to emergency food preparation and survival.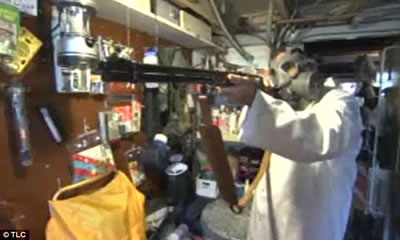 Warfare: Survival Doc explains the benefits of a side-ventilated gasmasks. You want interference with your gun's aim, afterall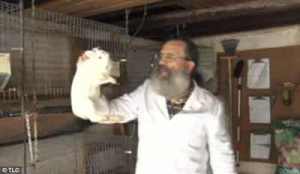 Here, bunny: The Doc takes a rabbit from his bank of hutches and prepares to kill it before storing the meat for harder times
'If it's messy and unorganised, it's hoarding' the mother and business woman says. 'I feel a great urgency to be prepared and to have my family prepared. It's a possibility we could have an earthquake, we could have economic collapse.'
Over in St Louis, Missouri, the Survival Doc is taking no chances. He and his wife Liz have stockpiled silver for years – their various coins, ornaments and table wear accumulating thousands of dollars' worth of value over the years.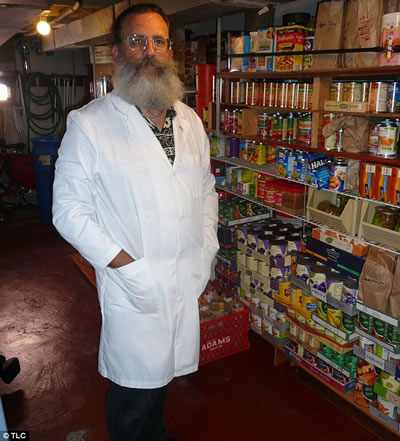 Don't forget a can opener: The Survival Doc has an internet channel on which he broadcasts tips for days of destruction, not least food storage and access
A chiropractor by trade, Survival Doc even has an internet channel on which he broadcasts survival tips, inside knowledge and plans for preparation.
The grey-bearded super-scout lives by the survival motto 'One is more, two is one,' and stores vast amounts of food, supplies and even alcohol even though he is not a drinker, because 'it's good bartering material.'
He farms rabbits, killing and storing their meat and owns a selection of guns, including a concealed 357 magnum which he wears at all times. He even tried to develop a way to swim with the weapon, but admits that 'obviously you can't protect everything. There are no guarantees in life.'
For her part, his wife, Liz, is long-suffering: 'I try to support him in everything he does. But it's a challenge.' She remains supportive, though: I'm so grateful my husband has taken the time to put things together,' she says of his eccentric tendencies.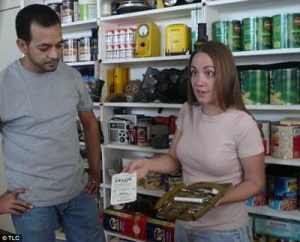 Survival mode: The McClungs show off their supplies including the family's surgical kit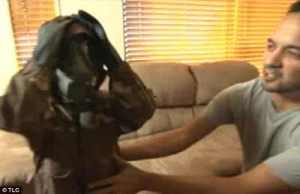 His dogged multiple-buying of everything has one exception, though: 'I only have one wife. One is enough in that regard.'
Then, there is the young family from Mesa, Arizona who believe in Hopi, Malachy and Mayan prophesies that predict the world will end .
 RELATED : Start of The End of World all Predictions here in 2017-2024
Danielle and Dennis McClung have two young children and have made sure to teach them what to do in an emergency. Together, the family make games out of praticing to dress in gas masks and protective clothing, while the children are taught to fend for themselves in preparation for a worse-case scenario.
Mrs McClung says of her 'protective' five-year-old son: 'He can cook, he can make cereal,' hoping that if anything was ever to happen to the adults, the infant could take care of his two-year-old little sister.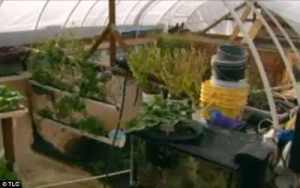 Self-sustaining: The McClungs have built a garden with a tilapia pool, goats, chickens and plenty of vegetables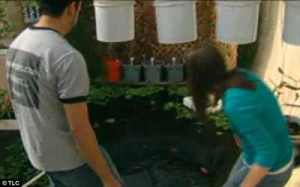 Gone fishin: A fishing net is hauled in from the tilapia pond, ready for the McClung's dinner. The fish are fed by chicken droppings from a coop above the pond
The McClungs hope to live entirely off grid by doomsday in December 2012, producing all of their own food, water, and energy. They have converted a swimming pool into a hi-tech closed loop garden complete with chickens, goats and a tilapia pool that is nourished by chicken droppings.
Helped by community volunteers, they say their unusual vision is an inspiration to others. 'I don't see ourselves as fear-mongers or even negative people,' says Mr McClung. 'I think we are actually very optimistic people, we're just preparing for the worse-case scenario and hoping for the best.'
But there are fewer more unorthodox approaches to post-apocalyptic survival than friends Jackie and Gidget from the Southwest Desert. Jackie, a trans-gender woman, is credited with being 'the enforcer, protector, handyman… or handywoman' of the pair, while Gidget takes control of food storage and has a career as a seamstress.
The couple, who wear matching purple tops, seem to have little strategy in place, besides heading to the shooting range to beef up their 'shoot to kill' survival tactics.
'We're preparing because the world as we know it and especially our country is coming to an end,' says Gidget. She is on the look out for economic collapse, war and rioting, but Jackie is more fearful of 'zombies.'
'I would like am M-16 or something like that for self-protection,' says Jackie, a senior who is undergoing hormone therapy.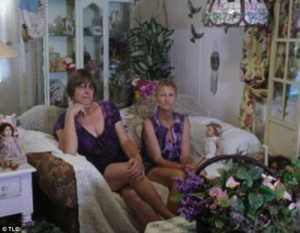 Not so rosy: As sweet as they may appear, Jackie, left, and Gidget are determined to 'shoot to kill' then 'can em up.' We hope that doesn't mean what it seems to imply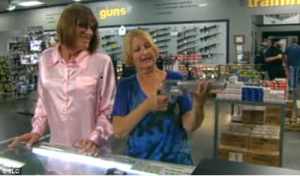 Ladies with guns: Jackie, left, and Gidget make sure their gun skills are up to scratch, ready for doomsday. They vow to 'shoot to kill'
'I have learned how to shoot a gun… I don't want to have to shoot anybody but I will,' says Gidget. 'I've always been taught that whatever you shoot and kill you have to eat it and I'm not accountable but it might come to that… Shoot to kill. Can 'em up.'
We can only hope it won't get to that stage: the couple have been hoarding food, alcohol and home-canned meats – including beef heart and 'cheap pork' – and their bathroom is stocked full with tinned carrots, spaghetti sauce and tuna fish. They breed and sell guinea pigs that they hope to never eat. 'They are a little skinny,' says Jackie.
From guns to gas masks and fresh fish, the one-hour special programme says that preparations for the apocalypse are a growing trend in the U.S. as more and more families ready themselves for a life beyond civilisation. A final word of survival to take from the unconventional characters on the show?
'Maybe in preparing for the worst, it brings out the best in humanity,' says a hopeful Mr McClung. Or, there are always the dubiously wise – or should that read paranoid? – words of the Survival Doc to live by: 'Be prepared. Or be prepared to be fleeced.'
Prepare to Live or Prepare to Die, you decide. 


Other useful resources:
Backyard Innovator (A Self Sustaining Source Of Fresh Meat,Vegetables And Clean Drinking Water)
Blackout USA (EMP survival and preparedness)
Conquering the coming collapse (Financial advice and preparedness )
Liberty Generator (Build and make your own energy source)
Backyard Liberty (Easy and cheap DIY Aquaponic system to grow your organic and living food bank)
Bullet Proof Home (A Prepper's Guide in Safeguarding a Home )
Family Self Defense (Best Self Defense Strategies For You And Your Family)
Sold Out After Crisis (Best 37 Items To Hoard For A Long Term Crisis)
SOURCE : www.december212012.com