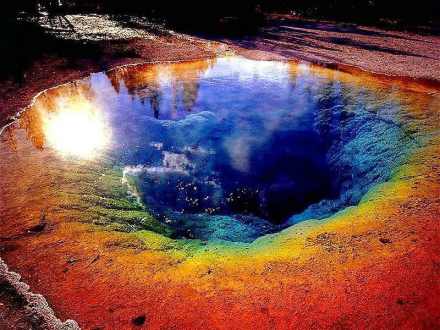 TERRORIST ATTACK ATTEMPT AGAINST YELLOWSTONE NATIONAL PARK; Artificial Resonance Targeting Yellowstone Lake / Volcano; Irrefutable Proof of Man-Made Effort To Trigger Eruption
A Terrorist Attack appears to have been attempted for several hours yesterday-into-today, against Yellowstone National Park; specifically, against the Super Volcano located beneath Yellowstone Lake. Seismometers at Yellowstone picked up precisely-timed vibrations which cannot occur naturally, being focused on the Caldera (mouth) of the super volcano by some external means. Whatever was being used SUCCEEDED in achieving resonance vibration underground inside the caldera (mouth) of the super volcano and the resonance got worse by the hour. The sole purpose of this effort could ONLY be to destabilize the Yellowstone caldera with the intent of causing an eruption of the super volcano.
TRN has the proof, shown below; now the world has it too. Common sense dictates this type of effort can only be undertaken by a nation-state. If this is not stopped, a super-volcanic-eruption could be induced, wiping out the entire northwestern quadrant of the United States and killing millions, in an act of state-sponsored terrorism through the use of a Resonant Energy Weapon.
According to data being recorded by seismometers at Yellowstone National Park, at about 8:30 AM Mountain Standard Time , someone began employing artificial technology against the Caldera (mouth) of the Yellowstone Super Volcano. This technology was creating precisely timed bursts of vibration – which simply cannot occur naturally – and these bursts of vibration were setting up resonance vibrations in the ground beneath Yellowstone Lake.
Four hours later, at 12:30 MST, the resonance took-hold and the synchronized vibrations – all perfectly timed and spaced – began affecting the ground.
Three hours later, around 3:30 PM, the resonance vibrations – still perfectly timed and spaced – began showing significant effect. This continued and got worse BY THE HOUR as shown in the seismometer graph below:
The chart below is a continuation of the one above. The chart clearly shows the precise pulses, and that they suddenly stopped shortly after midnight MST. It's as if someone simply "flipped a switch" and the pulsed readings just . . . . stopped.
While earthquakes and tremors can last a few minutes, with aftershocks coming for hours or days later, those events are all sudden and dramatic. They are NEVER meticulously timed events lasting, without interruption, for half a day or more. There is no natural phenomena which explains the precisely-timed, consistent pulses, continuing uninterrupted for better than 16 hours. It simply does not happen in nature. And since the Depth of the seismometer is about 2400 feet underground, no local mechanical device can possibly be showing up by mistake.
According the the US Geological Survey (USGS) Station Book, the monitoring device Identified on the chart above as "LKWY SHZ" is:
It is identified further as being part of the World Data Center for Seismology, Denver and International Seismological Center. Explicitly detailed information about the monitoring system LIKWY
The map below, taken directly from the USGS web site, shows the precise location of this seismometer and the fault line it monitors which runs down the CENTER of Yellowstone Lake, directly above the massive pool of magma beneath.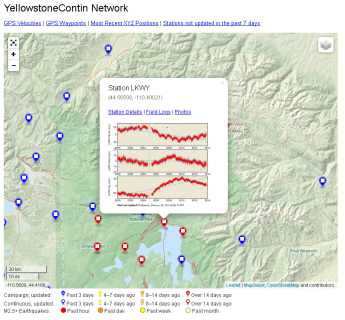 Readers are URGED to closely monitor this USGS station – and others in Yellowstone. It appears self-evident that someone is attempting to induce an eruption of the super volcano in Yellowstone and now that their experiment in causing ground resonance has been successful, this could be unleashed upon all of us, at will, with horrific and deadly results.
CONNECT THE DOTS: FEMA'S STRANGE REQUESTS LATELY
Federal Emergency Management Agency (FEMA) sought bids on the web site fedbizopps.gov seeking contractors who can supply medical biohazard disposal capabilities and 40 yard dumpsters, to 1,000 tent hospitals across the United States; all required on 24-48 hour notice. You can read the request HERE. While the request _appears_ to deal with biological/disease issues, the same issues and needs would arise if dealing with hundreds of thousands of dead bodies; they would need to be "disposed of" in a quick and efficient manner that contained any disease. If Yellowstone erupted, it would certainly involve hundreds of thousands of dead bodies.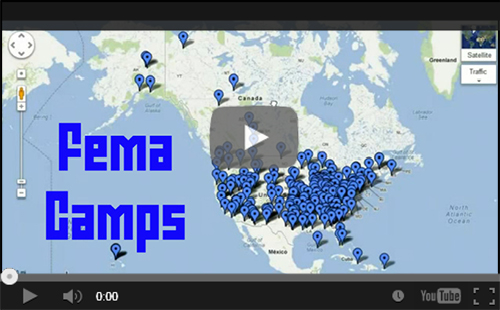 The FEMA request comes on the heels of other requests that the medical supply industry has received recently. A request for 31,000,000 doses of pediatric flu vaccine from the CDC Solicitation notice can be seen here.
FEMA also put out solicitation requests for: 100,000 each of winter shirts and pants and the same for summer. Interestingly only 10% of the items are to be in children's sizes. . They wouldn't need clothing for a Flu pandemic, but an eruption of the Yellowstone Volcano would create such a need.
From Tarps to manufactured prefabricated housing units, the requests for goods and services is a long one. Most of the requests and solicitations have an indefinite delivery date and an indefinite number of items to be supplied, such as this one for beverages. Scroll down to the revised draft solicitation at the bottom of the page for the specific requirements of the request. They wouldn't need Tarps or prefabricated housing units for a Flu pandemic or even a biological weapons attack; but they would if Yellowstone erupted.
So what is FEMA preparing for? Tent hospitals were the only way the United States coped with the 1918-1920 Flu pandemic as hospitals and medical centers were rapidly overwhelmed with the sick and the dying. Almost every week we are confronted by a new flu strain, or an emerging disease that could, in the right circumstances, threaten our way of life. Yet the whole prefabricated housing and clothing things just don't "fit" with a pandemic.
One more nasty little detail: FEMA is also soliciting companies to provide operational support for a "motor coach evacuation of the general population" of the United States in response to a declared emergency or a natural disaster. The solicitation originally appeared on the FedBizOpps website back in October but was recently revised after businesses began asking FEMA questions about the contract.
"This is a synopsis for a single indefinite-delivery, indefinite-quantity (IDIQ) contract to obtain evacuation planning and operational support to facilitate a motor coach evacuation of the general population in response to Presidential-Declared Emergencies and Major Disasters within the continental United States," states the solicitation. This aspect of FEMA's recent requests also does NOT fit with any pandemic or biological attack. It does fit with an eruption at Yellowstone.
Whatever it is they're preparing for, those items that do have numbers attached to them indicate they are not ordering enough stuff to ensure the survival of the bulk of the population. Frankly, if what they are preparing for is an eruption of the super volcano at Yellowstone, there wouldn't be too much of a US population left, now would there? In fact, such a scenario would be the perfect reason to implement martial law, and allow the feds to pretty much do away with the states. Tyranny and Dictatorship in one fell swoop; aided by a willing and compliant citizenry who are shocked and afraid because of the eruption of a super volcano.
We said earlier in this story that this seemed to be an attempted terrorist attack, done by a nation state. What if the nation state that's doing this is the one we pay our taxes to? What if they already know what they have planned and are simply stocking-up on the supplies needed to clean up quickly after they do what they plan?
PREPOSTEROUS! You say? Our own government wouldn't do that to consolidate their power. Of course not. The same way they wouldn't do something like the attacks of 9/11 as an excuse to end our civil rights and wage war all over the world. Goodness gracious, how COULD someone think such a thing?
The best way for Russia to solve its problem with America would be to trigger a nuclear weapon at Yellowstone National Park and hope that would set off a Super Volcano, destroying the continent, according to the chief of a Russian think tank.
The suggestion is attributed to Konstantin Sivkov, who wrote in an article at the Russian language VPK News that, "As a result, the U.S. will cease to exist."
While the rest of the world, he noted, would suffer a "catastrophe," Russia likely would suffer little "due to the distance from the eruption site, the size of the territory and the location."
While the stress of such a disaster would affect all of civilization, he wrote, such a weapon "has the possibility" of stopping "all thought of aggression against Russia."
In the alternative, he wrote, a nuke on the San Andreas fault might set of earthquakes that also could decimate large parts of America. His hope would be that it would create a tsunami a mile deep that would wash across the U.S. up to 1,500 kilometers inland.
Sivkov, described as a geopolitical analyst, also accused the "West" of moving "to the borders of Russia" already.
Get it before you need it! "Survival: How a Culture of Preparedness can Save You and Your Family from Disasters.
The article also was translated from Russian by the Sydney Morning Herald, where reporter Su-Lin Tan wrote, "He has a conspiracy theory that NATO – a political and military alliance which counts the U.S., UK, Canada and many countries in western Europe as members – was amassing strength against Russia, and the only way to combat that problem was to attack America's vulnerabilities to ensure a 'complete destruction of the enemy.'"
Sivkov, the head of the Academy of Geopolitical Problems in Moscow, wrote, "Geologists believe that the Yellowstone supervolcano could explode at any moment. There are signs of growing activity there. Therefore, it suffices to push the relatively small, for example the impact of the munition megaton class to initiate an eruption. The consequences will be catastrophic for the United States – a country just disappears."
He continued, "Another vulnerable area of the United States from the geophysical point of view, is the San Andreas fault – 1,300 kilometers between the Pacific and North American plates … a detonation of a nuclear weapon there can trigger catastrophic events like a coast-scale tsunami which can completely destroy the infrastructure of the United States."
The Herald noted that Sivkov spoke at the 2016 Moscow Economic Forum and said, by 2020 or 2025, Russia would have "asymmetric weapons" in its arsenal for the attack.

He lamented, according to the Herald, "The weakened economic potential in Russia, the loss of the 'spiritual core of what was the communist idea,' and [with] the lack of large-scale community allies in Europe such as the Warsaw Pact, Russia simply cannot compete against the NATO and its allies."
The analyst, also described in the article as a military strategist, told Pravda previously that the ultimate goal of the U.S. is to "destroy Russia."
And he charged that "American politicians" have participated in international crimes, but he doubts whether they will be held accountable.
An online translation of the VPK article quoted Sivkov noting that for Russia, the situation now is "incomparably worse" than during the 1950s and 1960s at the height of the Cold War.
That's because "Western-oriented oligarchs and related liberal officialdom" are in charge.
Significant, he wrote, would be the "political will" of the nation's leaders.
The opportunity is there, in Yellowstone, he wrote.
"The power of this supervolcano" would prove "disastrous" for the U.S.
"Geologists believe that the Yellowstone supervolcano could explode at any moment … Therefore it suffices to push the relatively small [explosion] … to initiate an eruption."
The National Park Service claims there have been several major volcanic eruptions in the Yellowstone area in what it says were the last two million years, the last only about 174,000 years ago when the West Thumb of Yellowstone Lake was created.
A huge landslide in the 1950s created another lake on the northwest edge of the park.
The Park Service adds that the Yellowstone Caldera was created about 640,000 years ago, a region that is now 30 miles by 45 miles.
"The Yellowstone volcano is still active," the government reports. "Evidence for the activity of the Yellowstone volcano are the 1,000 to 3,000 earthquakes per year, active ground deformation, and the over 10,000 geothermal features found in Yellowstone."
It is considered a "supervolcano" because it is believed to have the capability of erupting more than 240 cubic miles of magma.
---
"MY SURVIVAL FARM"
…and it's like nothing you've ever seen before… An A to Z guide on survival gardening that is easy to read and a joy to put into practice, full of photos, diagrams and step by step advice. Even a kid can do this and, in fact, I encourage you to let the little ones handle it, to teach them not just about self-reliance but also about how Mother Nature works.
Here is just a glimpse of what you'll find inside:
How to plan, design and put into action high-yield survival garden that will literally keep you and your family fed for life, no matter what hits you, even when everyone else around you is starving to death. No digging and planting year after year and no daily watering because you'll have more important things to worry about when TSHTF.
How to set up highly nutritious soil for your plants. Do this before you plant anything and you're on your way to setting your food forest on auto-pilot for decades to come. I'm gonna tell you this one "weird" thing to add to the mulch that's not only highly effective but also 100% free (because you already have it in your home right now).
Step-by-step instructions on how to plant over 125 plants inside your permaculture garden. Plus, special instructions on choosing the right ones for your climate. From Arizona to Alaska, you can do this anywhere…
How to "marry" your plants. We're gonna tell you which grow well together and help each-other survive and thrive, so they don't ever compete for sunlight and nutrients. You get the full table of plants that work well with one another as well as the ones you should NEVER be put together.
---
Our grandfathers had more knowledge than any of us today and thrived even when modern conveniences were not available. They were able to produce and store their food for long periods of time. The Lost Ways is the most comprehensive book available. All the knowledge our grandfathers had, in one place.Here's just a glimpse of what you'll find in the book:
Table Of Contents:
Making Your Own Beverages: Beer to Stronger Stuff
Ginger Beer: Making Soda the Old Fashioned Way
How North American Indians and Early Pioneers Made Pemmican
Wild West Guns for SHTF and a Guide to Rolling Your Own Ammo
How Our Forefathers Built Their Sawmills, Grain Mills,and Stamping Mills
How Our Ancestors Made Herbal Poultice to Heal Their Wounds
What Our Ancestors Were Foraging For? or How to Wildcraft Your Table
How North California Native Americans Built Their Semi-subterranean Roundhouses
Our Ancestors'Guide to Root Cellars
Good Old Fashioned Cooking on an Open Flame
Learning from Our Ancestors How to Preserve Water
Learning from Our Ancestors How to Take Care of Our Hygiene When There Isn't Anything to Buy
How and Why I Prefer to Make Soap with Modern Ingredients
Temporarily Installing a Wood-Burning Stove during Emergencies
Making Traditional and Survival Bark Bread…….
Trapping in Winter for Beaver and Muskrat Just like Our Forefathers Did
How to Make a Smokehouse and Smoke Fish
Survival Lessons From The Donner Party
Get your paperback copy HERE

Here's just a glimpse of what you'll find in The Lost Ways:
From Ruff Simons, an old west history expert and former deputy, you'll learn the techniques and methods used by the wise sheriffs from the frontiers to defend an entire village despite being outnumbered and outgunned by gangs of robbers and bandits, and how you can use their wisdom to defend your home against looters when you'll be surrounded.
Native American ERIK BAINBRIDGE – who took part in the reconstruction of the native village of Kule Loklo in California, will show you how Native Americans build the subterranean roundhouse, an underground house that today will serve you as a storm shelter, a perfectly camouflaged hideout, or a bunker. It can easily shelter three to four families, so how will you feel if, when all hell breaks loose, you'll be able to call all your loved ones and offer them guidance and shelter? Besides that, the subterranean roundhouse makes an awesome root cellar where you can keep all your food and water reserves year-round.
From Shannon Azares you'll learn how sailors from the XVII century preserved water in their ships for months on end, even years and how you can use this method to preserve clean water for your family cost-free.
Mike Searson – who is a Firearm and Old West history expert – will show you what to do when there is no more ammo to be had, how people who wandered the West managed to hunt eight deer with six bullets, and why their supply of ammo never ran out. Remember the panic buying in the first half of 2013? That was nothing compared to what's going to precede the collapse.
From Susan Morrow, an ex-science teacher and chemist, you'll master "The Art of Poultice." She says, "If you really explore the ingredients from which our forefathers made poultices, you'll be totally surprised by the similarities with modern medicines." Well…how would you feel in a crisis to be the only one from the group knowledgeable about this lost skill? When there are no more antibiotics, people will turn to you to save their ill children's lives.
If you liked our video tutorial on how to make Pemmican, then you'll love this: I will show you how to make another superfood that our troops were using in the Independence war, and even George Washington ate on several occasions. This food never goes bad. And I'm not talking about honey or vinegar. I'm talking about real food! The awesome part is that you can make this food in just 10 minutes and I'm pretty sure that you already have the ingredients in your house right now.
Really, this is all just a peek.
The Lost Ways is a far–reaching book with chapters ranging from simple things like making tasty bark-bread-like people did when there was no food-to building a traditional backyard smokehouse… and many, many, many more!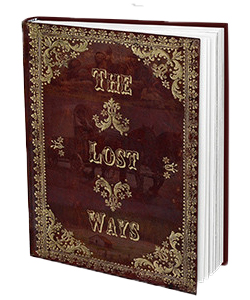 The Lost Ways (Learn the long forgotten secrets that helped our forefathers survive famines,wars,economic crisis and anything else life threw at them)
Survival MD (Best Post Collapse First Aid Survival Guide Ever)
Conquering the coming collapse (Financial advice and preparedness )
Liberty Generator (Build and make your own energy source)
Backyard Liberty (Easy and cheap DIY Aquaponic system to grow your organic and living food bank)
Bullet Proof Home (A Prepper's Guide in Safeguarding a Home )
Family Self Defense (Best Self Defense Strategies For You And Your Family)
 Survive Any Crisis (Best  Items To Hoard For A Long Term Crisis)
Survive The End Days (Biggest Cover Up Of Our President)
NOTE: This article was published by Turner Radio Network. All "volcano experts" please direct your expert opinions and comments to TRN and do not spam our comment box.  Link to TRN below
SOURCE : TRN