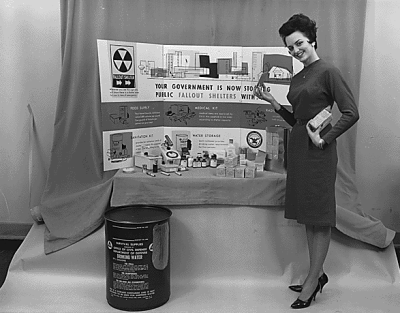 Do you have enough larder to feed your family and some friends if grocery stores ran out of food? How about several assault rifles and a few thousand rounds of ammo? Solar panels, a water filter, medical kits, bug-out bags, fire starters, tents, sleeping bags, some junk silver and reserve gasoline?
Don't worry, you're not alone.
It's becoming apparent to many Americans that depending on our local, state and federal governments in the event of an emergency, catastrophic societal collapse or widespread disaster will not be sufficient to meet the needs of your family. Residents in Colorado (and likely the other 49 states) are stockpiling in droves and preparing to live off the grid if it comes to that:
Four families in Yoder are building a sand bunker and stockpiling ammunition and weapons.

A Black Forest resident has erected a geodesic dome on her 5-acre spread to grow vegetables, keeps horses for emergency transportation, in case she can't get gasoline for her car, and plans to acquire chickens and goats as food sources.

A husband and wife who have a cabin on 100 acres of secluded land in Park County have weaned their property from the electric grid, acquired a three-year food supply and taken other measures to become self-sufficient.

While there's little threat of the earthquake and tsumani that rocked Japan last month in landlocked Colorado, other epic crises on the home front are possible: A flood or fire. A terrorist attack. A nuclear weapons launch. World War III. Or an apocalyptic-type scenario.

An increasing number of people say they are getting ready.

"More people are getting into the survivalist mode. I've been in business 30 years, and I've never sold so many assault rifles as now. The last year was the best we've ever had," said Mel Bernstein, a Class III weapons dealer and owner of Dragon Man's shooting range east of Colorado Springs.

Israeli gas masks, helmets and sand bags also have been selling well, he said.
"People are putting stuff away in case something big happens," he said. "I think it's superstition, but it's been good for business."

Interest in the survivalist movement has been heightened, many say, by global turmoil.

The ongoing strife in the Middle East, the lingering possibility that the Obama administration will enact stricter gun laws and the sustained economic downturn, coupled with political unrest in Libya and Japan's nuclear catastrophe, have made people uneasy.

In addition, doomsday prophesies by Nostradamus and the Mayans pinpointing 2012 are distressing for some. There's also a group of Christians who say they've determined that the end of the world will begin on May 21.

"People are afraid, and they want to be able to protect their families," Bernstein said.

Y2K — the dawning of the third millennium — brought forth a fury of survivalist instincts, as many believed the nation's network of electric connections and computer systems would crash.

The terrorist attacks of Sept. 11, 2001, raised concern among even the complacent.

But this time in history feels more urgent, say those who identify themselves as "preppers" — people preparing to have all they need to sustain a catastrophe.

"There's a distinct possibility that some other country could wipe out our electronics and computers, and the U.S. infrastructure is not ready — it would take six months to rebuild a transformer," said Bob, a retired engineer who said he designed airplanes, power plants and aqueducts for the government.

He asked that his last name not be used because he shares a philosophy common among preppers: the desire for anonymity. Not everyone understands why they're doing what they're doing, Bob said, and there's the possibility of others looting their stockpiles.
"Preppers will give someone a pound of rice and a bowl of soup, but we'll defend ourselves against people who are going to take everything we have," he said. "We're doing this to make sure that we can live the way we've been living and we're not going to be out there scrounging or stealing food from others."
There are any number of scenarios, both natural and man-made, that could lead to what preppers refer to as TEOTWAWKI (The End of the World as We Know It), be it an electro magnetic pulse attack, a US dollar hyperinflation, economic collapse, an earthquake along the New Madrid Fault Line, Yellow Stone's super volcano, or the purported Mayan end of days.
While some may be more likely to occur than others, and some are improbable outliers, the fact that the possibilities exist, and that there are a whole host of reasons why life as we have come to know it could be halted from one day to the next, makes preparedness that much more reasonable.
We've seen how governments respond to disasters. Recent history in the modern age suggests that there is simply no way to meet the needs of millions of people if a far-from-equilibrium situation were to arise.
Americans spend thousands of dollars per year on insurance for our homes, our cars, our health, our lives, and even our mortgages.
Is it really so crazy to insure ourselves from unforeseen black swans by stockpiling some food, water, supplies and a means to protect them?
The US government is spending billions of dollars to prepare for unlikely events like war, catastrophic collapse of society, and even asteroids – maybe you should consider a little end-of-the-world insurance as well.

SOURCE : www.shtfplan.com