Boeing Unveils Amazing, Slightly Terrifying New Electromagnetic Pulse Weapon
Born into Generation X, I grew up with the threat of nuclear war — and all its corollaries, from visions of mushroom clouds to "duck and cover" drills in high school to Terminator movies, and of course, the ever-present worry that one day a sneaky Soviet satellite would detonate way up in the sky and fry all of our electronics with an "electromagnetic pulse."
So imagine my surprise when the U.S. Air Force confirmed last week that it's developed an electromagnetic pulse weapon of its own, and that Boeing (NYSE: BA  ) is helping to build it.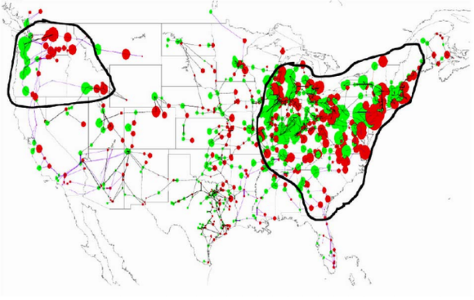 Oak Ridge National Laboratory maps the areas likely to be blacked out in the event of a high-altitude nuclear EMP attack on the United States. Boeing's area of effect will be considerably smaller. Image source: Oak Ridge National Laboratory.
A CHAMP-ion idea
The weapon in question: Boeing's "CHAMP," short for Counter-electronics High-powered Microwave Advanced Missile Project. It's essentially the old nuclear electromagnetic pulse weapon that we used to worry so much about — but without the nuclear part. CHAMP carries a small generator that emits microwaves to fry electronics with pinpoint accuracy. It targets not nations or cities but individual buildings, blacking out their electronics rather than blowing up physical targets (or people).

What makes CHAMP even more interesting is that, unlike a nuclear electromagnetic pulse weapon, which fires once, blacking out entire nation-states, CHAMP can fire multiple times, pinpointing and blacking out only essential targets. This would permit, for example, taking down radar defenses in a hostile state, while saving the electrical grid that supports the civilian population. In a 2012 test flight in Utah, a single CHAMP was reported to have blacked out seven separate targets in succession, in one single mission.(source)
Exploding A Nuclear Bomb In The Sky Creates An Interesting Phenomenon
In 1962, during the depths of the Cold War, the U.S. military exploded a nuclear weapon high above an atoll in the Pacific Ocean. Dubbed Operation Starfish, this exercise was part of a larger project to evaluate the impacts of nuclear explosions in space. The missile, launched from Johnson Island, 900 miles from Hawaii, was armed with a 1.4 megaton warhead, programmed to explode at 240 miles above the earth. It detonated as expected. What was not entirely expected was the magnitude of the resulting electromagnetic pulse (EMP).
The EMP was powerful enough to affect the electric grid in Hawaii, blowing out streetlights, and resulting in telephone outages and radio blackouts.
Dr. William Graham was active in the follow-up to the project, working out of the Air Force weapons lab in Albuquerque, New Mexico. After the blast, it was his job to understand the data collected, find out just what had happened in Hawaii, and what the defense implications were of this phenomenon.  In a recent interview, Graham commented,

"The effects were bizarre and almost entirely unanticipated.  One effect was an electromagnetic pulse, but nobody knew it was going to be anywhere nearly as large it proved to be.  They had all this data and they didn't understand very much of it, including the EMPs that had been observed and the effects produced…all kinds of electrical disturbances were seen over 1000 kilometers away in Oahu. The Air Force brought in a bunch of us…and asked us to explain it.  With the leadership of scientists from Los Alamos, we figured it out.  It was a fairly subtle piece of physics.  At that time we were worried it could be used as a precursor attack on the U.S. and suppress our retaliatory capability.  Since the effect wasn't really understood before 1962, our military systems hadn't protected against it up to that point.
Image: www.todaysengineer.org
Graham then went on to become one of the nation's leading experts on the topic, helping advise on both defensive and offensive capabilities.
We needed to protect our ballistic missiles, B1 bombers, and communications systems for command and control. A decade later I laid out design of how you made an even stronger enhanced EMP weapon. That was almost 50 years ago.
In the 1980s, during the Reagan Administration, Dr. Graham continued to lend his expertise, and became a member of the President's Arms Control Experts Group and Science Advisor to the President.
More recently, he has shifted his focus to protecting against what he now sees as the potentially greatest existential threat to the United States: an EMP attack against our civilian infrastructure – particularly the electric power grid. He is concerned that in the last half century since we first became aware of this issue, our increasing reliance on electronics, and hence our vulnerability, has increased tremendously.
To that end, Graham has served as Chair to both the 2001-4 and 2006-8 Commissions to Assess the Threat to the United States from Electromagnetic Pulse Attack, and was a member of the Department of Defense's Science Board and the National Academies Board on Army Science and Technology.
The Potential Consequences Are Almost Unimaginable
Graham knows what he is talking about, and his comments are not to be taken lightly.
Since then, there have been an enormous increase in our dependency on electronics, computers, and microelectronics. An attack may never happen. But the more vulnerable the U.S. is to such an attack, the more likely it is to be used against us. In the former days, we worried about Russia. Now we have to be concerned about North Korea and Iran. These could be launched from a not-so-elaborate container ship. The rocket doesn't have to be accurate. It just has to go up. It's well within the capability of even an earlier Scud missile, of which thousands have been produced – it just has to have nuclear weapon on top (Author's note – just this month, the ISIS paraded what they claimed was a captured Scud missile in Syria. U.S. intelligence officials indicate it is likely not operational. Meanwhile, North Korea launched more missiles in July, among numerous launches this year).
Graham expressed concern that Iran also has this offensive capability within their arsenal, and perhaps within their current military doctrine as well.
We have data indicating that the Iranians have launched their versions of Scuds off of the Caspian Sea – not from land, but from the sea – and launched them over land. And we've also seen them launch missiles that have gone up and apparently exploded near their highest altitude – when you put those two ideas together – that is an EMP attack.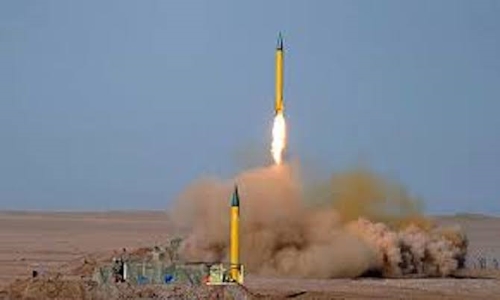 Image: Theguardian.com
Why is this so important? Because a single missile with a warhead that actually doesn't have to be all that large, has the potential to take out the U.S. power grid, destroy our electronics networks, and create an existential crisis like nothing the world has ever witnessed.
Here's an excerpted summary from the 2008 Report of the Commission to Assess the Threat to the United States from Electromagnetic Pulse Attack that would make great science fiction. Unfortunately, it's not:
The electromagnetic pulse (EMP) generated by a high altitude nuclear explosion is one of a small number of threats that can hold our society at risk of catastrophic consequences…A single EMP attack may seriously degrade or shut down a large part of the electric power grid in the geographic area of EMP exposure effective instantaneously. There is also the possibility of functional collapse of grids beyond the exposed one, as electrical effects propagate from one region to another…Should significant parts of the electric power infrastructure be lost for any substantial period of time, the Commission believes that the consequences are likely to be catastrophic, and many people may ultimately die for lack of the basic elements necessary to sustain life in dense urban and suburban communities.


The summary continues:
In fact, the Commission is deeply concerned that such impacts are likely in the event of an EMP attack unless practical steps are taken to provide protection for critical elements of the electric system and for rapid restoration of electric power, particularly to essential services.
It goes on to note that we have become so efficient, technology-dependent, and highly leveraged that utilities would lack sufficient trained service personnel to address a disaster on this scale.
The Effects and Components of Electromagnetic Pulses
The International Electrotechnical Commission defines three components associated with a nuclear electromagnetic pulse: E1, E2, and E3. The E1 pulse is brief, intense, and very quick (traveling at over 90% of the speed of light), and can take out computers and telecommunications equipment owing to its ability to exceed voltage limitations. The E2 element is intermediate in duration, lasting from a microsecond to a second after the initiation of the EMP, and is similar in its effects to lightning. As such, the grid is generally shielded against E2. By contrast, the E3 pulse is much slower, a result of the nuclear explosion affecting the earth's magnetic field, and is very similar to the effects of an intense solar storm. The E3 effect of a nuclear blast or severe solar storm would be to create massive currents on power lines, which could then destroy electrical transformers and potentially impact power plants as well.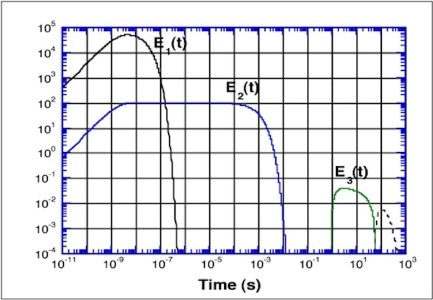 Image: todaysengineer.org
One curious facet of an EMP event is that we wouldn't even feel it pass through our bodies. The EMP would pass unnoticed through us, even as it fried the iPhones and Galaxies in our pockets, knocked out our telecommunications system, rendered our cars and computers without the ability to function, and took out our power grid.
We would have little idea of the dread potentially awaiting us, because there would be no communications. No mobility. Nothing that our highly evolved, sophisticated, and electronic society relies on.  That's the bad news.(source)
Hope for the best, but prepare for the worst.
This is a good motto to live by, despite how you think about things.
Individuals can still hope for the best (that things can and will eventually work out), but what
good is your prosperity going to do if you don't have anything to eat or a safe place to hang out
for an extended period of time?
Why not prepare while you still can — when things are readily available and can still be
purchased at cheap prices? The coming hyper-inflation will make any such purchases beforehand
look very intelligent…
To prepare for the worst, you need a plan. Why are most people so against doing basic
preparations that could be the difference on how they survive — or whether they survive?
History shows time and again that those who prepare always fare better than those who did not.
Having a plan and being determined to act on that plan will always be the best way to handle any
contingencies, should they occur.
After disaster strikes, your mind is going to be racing around like a car on a race track. Preplanning and having a written set of measures to take will make someone's life go much
smoother when the SHTF.
Survival MD (Best Post Collapse First Aid Survival Guide Ever)
Backyard Innovator (A Self Sustaining Source Of Fresh Meat,Vegetables And Clean Drinking Water)
Blackout USA (EMP survival and preparedness)
Conquering the coming collapse (Financial advice and preparedness )
Liberty Generator (Build and make your own energy source)
Backyard Liberty (Easy and cheap DIY Aquaponic system to grow your organic and living food bank)
Bullet Proof Home (A Prepper's Guide in Safeguarding a Home )
Family Self Defense (Best Self Defense Strategies For You And Your Family)
Sold Out After Crisis (Best 37 Items To Hoard For A Long Term Crisis)
Survive The End Days (Biggest Cover Up Of Our President)