Watch! & pray! it's END TIMES
Even seeing these events skyrocketing our days, denying Jesus's return is very soon to come is not reasonable.
God predicts these in the Bible
1. FALSE PROPHETS AND CHRISTS
Matthew 24:5 "For many will come in my name, saying, I am Christ, and will mislead many."
Matthew 24:11 "And many false prophets will arise, and will mislead many."
RELATED : Three Judgment Zones Coming to America-Survive The End Days
2. WARS
Matthew 24:6 "And you will be hearing of wars and rumors of wars; see that you are not frightened, for those things must take place, but that is not yet the end."
Rumors of wars in all areas of the world now occur frequently thanks to instant media coverage and the availability of a multitude of 24-hour news sources.
Matthew 24:7 "For nation will rise against nation, and kingdom against kingdom, and in various places there will be famines and earthquakes."

More people have been killed in warfare in this century than at any other time in history. As the death toll rises in the Middle East, more and more countries work feverishly to develop devastating weapons of mass destruction. Add to that the expanding threat of terrorism and unpredictable dictators such as Saddam Hussein, and the potential for the outbreak of war exists in nations, kingdoms and places across the globe.
RELATED : September 2015 in Bible Prophecy
3. FAMINES
Matthew 24:7 "For nation will rise against nation, and kingdom against kingdom, and in various places there will be famines and earthquakes."
As white, Christian farmers are driven out of Zimbabwe in increasing numbers, and foreigners move in to replace life-sustaining crops with poppies that now supply 25% of the worlds drugs, famine spreads across the African continent. The undernourished are not limited to Africa, however. A large portion of the worlds 5 billion people suffers from a shortage of food.
RELATED : SHOCK: 72 Hours After Grid-Down: Starvation, Supply Shortages, Food Lines, No Clean Water, No Gas
RELATED : There will be widespread, perhaps even critical, shortages of necessities – food and fuel
4. EARTHQUAKES
Matthew 24:7 "For nation will rise against nation, and kingdom against kingdom, and in various places there will be famines and earthquakes."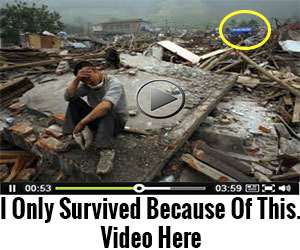 The number and intensity of earthquakes this century is at a level higher than any other time in history. A staggering number of seismic events occur around the world daily. The earthquake seismic monitor IRIS shows all major earthquakes for the last year. Indicated by yellow and red circles, the seismic events of the last 15 days provides strong evidence of the fulfillment of Matthew 24:7 in our day. By contrast, in the years from 1890 to 1900 there was only one major earthquake in the world.
5. TRIBULATIONS
Matthew 24:8-9 "But all these things are merely the beginning of birth pangs. Then they will deliver you to tribulation, and will kill you, and you will be hated by all nations on account of my name."
RELATED : 2015 Predictions: End Of The World – The End Of All Things Is Near
6. THE GOSPEL WILL BE PREACHED THROUGHOUT THE WORLD
Matthew 24:14 "And this gospel of the kingdom shall be preached in the whole world for a witness to all the nations, and then the end shall come."
This prophecy has already been fulfilled through television, radio, missionaries, the translation of the Bible into many languages, and the internet. People all over the world now hear the message of Christ from missionaries who have the means to travel the globe, and via technology that allows us to communicate with people on the other side of the world right from our own homes, churches and offices.
TWO CHARACTERISTICS OF THE END OF THE AGE FROM THE APOSTLE PAUL
RELATED : Signs Of The End Is All Around Us "' Wake Up " The Last Days Are Here
1. GODLESSNESS IN THE LAST DAYS
II Timothy 3:1-5,7 "But realize this, that in the last days difficult times will come. For men will be lovers of self, lovers of money, boastful, arrogant, disobedient to their parents, ungrateful, unholy, unloving, unforgiving, malicious gossips, without self-control, brutal, haters of good, treacherous, reckless, conceited, lovers of pleasure rather than lovers of god; holding to a form of godliness, although they have denied its power; always learning and never able to come to the knowledge of the truth."
2. APOSTASY (FALLING AWAY FROM THE FAITH)
I Timothy 4:1-3 "But the spirit explicitly says that in later times some will fall away from the faith, paying attention to deceitful spirits and doctrines of demons. By means of the hypocrisy of liars seared in their own conscience as with a branding iron, men who forbid marriage and advocate abstaining from foods which God has created to be gratefully shared in by those who believe and know the truth.(youtube.com)
RELATED : Survive Any Disaster | The Last Days | End of the World | Armageddon
RELATED : Prepare For Great Tribulation In America 2015!
JESUS RAPTURE Pre Tribulation or Post Tribulation
RELATED : It is NOW Time to Leave the Cities! September 2015
SIGNS OF THE END
RELATED : Survive The End Days – US truth in the Bible
Survival MD (Best Post Collapse First Aid Survival Guide Ever)
Backyard Innovator (A Self Sustaining Source Of Fresh Meat,Vegetables And Clean Drinking Water)
Blackout USA (EMP survival and preparedness)
Conquering the coming collapse (Financial advice and preparedness )
Liberty Generator (Build and make your own energy source)
Backyard Liberty (Easy and cheap DIY Aquaponic system to grow your organic and living food bank)
Bullet Proof Home (A Prepper's Guide in Safeguarding a Home )
Family Self Defense (Best Self Defense Strategies For You And Your Family)
Sold Out After Crisis (Best 37 Items To Hoard For A Long Term Crisis)
Survive The End Days (Biggest Cover Up Of Our President)
Drought USA(Discover The Amazing Device That Turns Air Into Water)